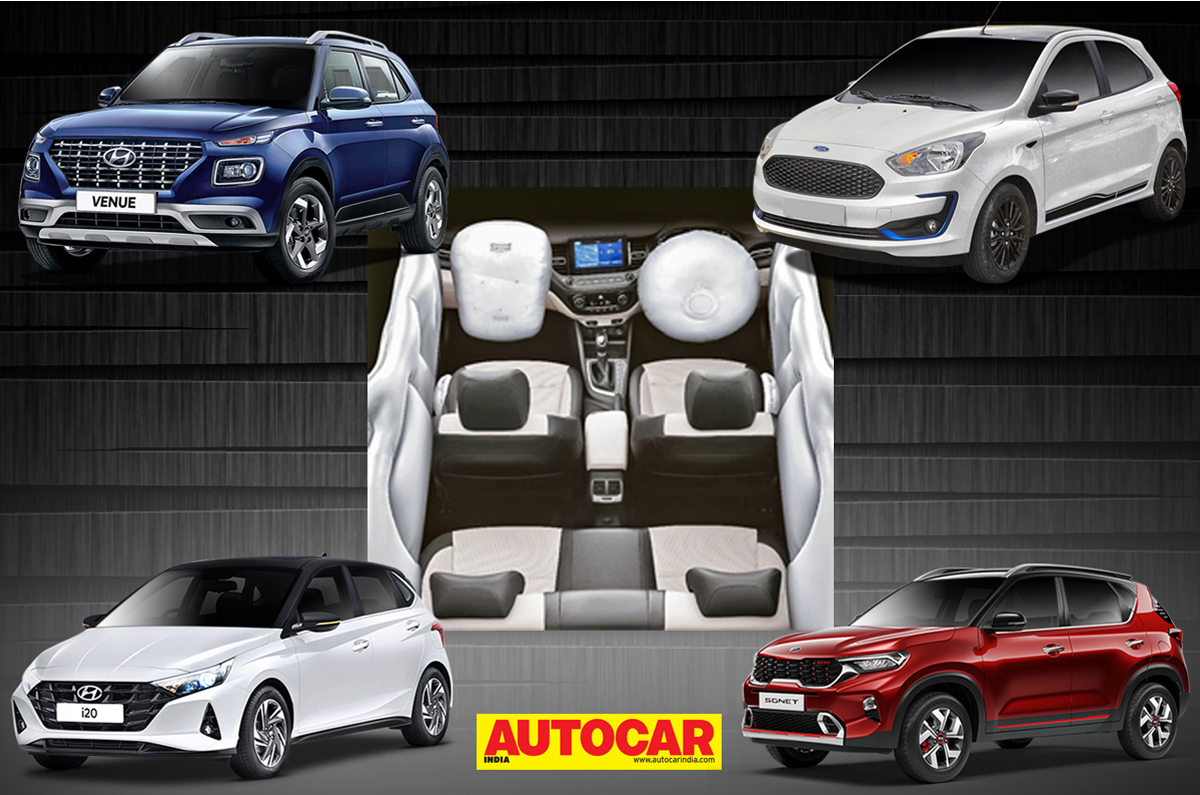 The government's relentless drive to improve road and vehicle safety in India witnessed dual airbags becoming mandatory for all new cars starting from April 2021, and for existing models from December this year.
And while Indian road users are becoming increasingly aware of higher automotive safety standards, the government too seems to be in sync by providing the necessary push. Recently, the Union Minister for Road Transport and Highways, Nitin Gadkari, urged manufacturers to roll out six airbags as a standard feature and up the safety quotient in their passenger vehicles.
While most cars and SUVs are offered with dual airbags as standard, and six airbags still feel like a novel feature, here we take a look at all mass-market carmakers who currently offer six or more airbags on vehicles priced under Rs 40 lakh.
Citroen
The French carmaker entered the Indian market this year and currently has only one model on sale – the C5 Aircross. The C5 Aircross comes to India as a CBU and is equipped with six airbags on all its variants. Prices for the C5 Aircross start from Rs 30.30 lakh for the base Feel trim, and it gets six airbags as standard.
Ford
The American carmaker really seems to prioritize safety as it offers six airbags on all its models in India. Even Ford's entry level models like the Figo, Aspire and the Freestyle get six airbags on their higher-spec trims, something that none of their rivals have on offer. The Ecosport is at par with its segment with six airbags on higher trims. The Endeavour takes it a notch higher with seven airbags right from the base variant. The Titanium Blu petrol variant of the Ford Figo is the most affordable Ford with 6 airbags and is priced at Rs 7.27 lakh.
Honda
Coming to Honda's stable, it is only the City that comes with six airbags from the mid-spec VX trim onwards, while the base trim gets four airbags. The mid-spec City VX trim is priced from Rs 12.62 lakh. Other Hondas such as the Jazz, WR-V and the recently updated Amaze only get two airbags.
Hyundai
Hyundai has one of the widest product portfolios in our market and also the most number of models that are offered with six airbags. Even the Venue and the i20, which are relatively affordable cars, are offer six airbags on the higher-spec trims. Further up the range, all models including the Verna, Elantra, Chalk, Alcazar, Tucson and Kona Electric are offered with six airbags as standard. The most affordable Hyundai with 6 airbags is the i20 Asta(O) trim, prices of which start from Rs 9.41 lakh.
Jeep
Jeep has only one model that's priced under Rs 40 lakh – the Compass SUV – and it gets six airbags from its mid-spec Limited Opt trim, priced from Rs 22.69 lakh. Even the Wrangler, which costs well above Rs 40 lakh, gets only four airbags.
That
Both the Seltos and the Sonet SUVs come with six airbags on higher-spec trims, which keep them at par with their respective segments. The Carnival MPV also gets six airbags from its mid-spec trim. The GTX trim of the Sonet, priced from Rs 12.19 lakh, is the most affordable That with 6 airbags.
Mahindra
Mahindra too have stepped up in terms of safety in recent years. Mahindra's smallest SUV- the XUV300 – gets six airbags and also a 5-star Global NCAP rating. Meanwhile, Mahindra's brand new flagship XUV700 takes safety to a whole new level. Not only will it come with seven airbags on higher trims, it also sets a new benchmark for safety with ADAS features in this price range. The top-spec W8 Option trim of the XUV300, priced from Rs 11.70 lakh, is the most affordable Mahindra with more than six airbags.
MG Motor
MG has always betted big with the safety of its models, and apart from offering class-leading ADAS features with models like the Gloster, all MG SUVs including the Hector, Hector Plus, ZS EV and Gloster come with six airbags on their top-spec trims. In fact, the Gloster and ZS EV have six airbags right from the entry-level variant. The top-spec Sharp trim of the Hector is the most affordable MG with six airbags, priced from Rs 18.69 lakh.
Tata Motors
Tata Motors too have upped their game in terms of safety in the recent years. The home-grown carmaker has earned a great reputation for making solidly built cars, and that's evident right from budget hatchbacks like the Tiago to more expensive models as well. And while Tata's entry models do not have six airbags, they still boast of 4- or 5-star safety ratings from Global NCAP. The Harrier and the Safari, meanwhile, have the bragging rights of six airbags on higher-spec trims. The Harrier gets six airbags from its XZ trim, priced from Rs 18.35 lakh, which is the most affordable Tata with six airbags.
Toyota
Similarly, safety is a top priority for Toyota as well, who offers as many as seven airbags on the Yaris, Innova Crysta and Fortuner. As for the Camry, it gets a total of nine airbags, the most a car gets under Rs 40 lakh. In fact, the Glanza and the Urban Cruiser, which are badge-engineered models from Maruti Suzuki, are the only models in the carmaker's line-up to not be offered with at least six airbags. The Yaris in its V(optional) trim, priced at Rs 12.39 lakh, is the most affordable Toyota in India with more than six airbags.
Skoda
Skoda's recently launched Kushaq is right up there with its segment with six airbags on higher trims. Meanwhile, Skoda's more expensive models like the Superb and the top-spec Octavia are offered with eight airbags. Meanwhile, the entry-level Octavia gets six airbags. The Kushaq is naturally the most affordable Skoda to get six airbags on its top-spec Style trim, priced from Rs 14.59 lakh.
Volkswagen
Just like the Skoda Kushaq, Volkswagen's upcoming Taigun will also boast of six airbags on higher-spec versions. Meanwhile, the T-Roc and the Tiguan AllSpace, which are brought into the country as CBUs in a single fully loaded trim, are also offered with six airbags as standard. Until the Taigun is launched, the T-Roc is the most affordable VW with six airbags, priced from Rs 21.35 lakh.
Automakers that do not offer 6 airbags in India
It's worth mentioning here that carmakers like Maruti Suzuki, Nissan and Renault do not offer more than two airbags on any of their models here in India. Models such as the Duster, Kicks, Ciaz, S-Cross, Breeze, Kiger and Magnite all exist in segments where 6 airbags are offered by rivals, and yet they do not.
The case for providing six airbags
Earlier this month, Nitin Gadkari, in a meeting with the representatives from the Society of Indian Automobile Manufacturers (SIAM), had urged all carmakers to compulsorily provide a minimum of 6 airbags across all variants and segments of the vehicle.
Installing additional airbags will certainly improve a vehicle's crash safety, however, there are many challenges. For one, the additional cost would be substantial especially in the budget segment. A front airbag in an entry level car can cost anywhere between Rs 5,000-10,000 and side and curtain airbags can cost double that. Additionally, installing these airbags will involve a lot of reengineering in cars not originally designed to offer that level of protection.
In reality, most manufacturers do offer six airbags in at least some of their models, although mostly reserved for higher versions. More technology-led safety systems such as electronic stability control (ESC), are set to become mandatory in cars by 2023, and the step to offer six airbags could go a long way in enhancing the safety quotient and creating a competitive environment in the Indian passenger vehicle market that is heading towards maturity.
Also See:
Delhi performs the worst, Kolkata the best in Ford road safety survey
Advanced safety technologies that all cars in India should have