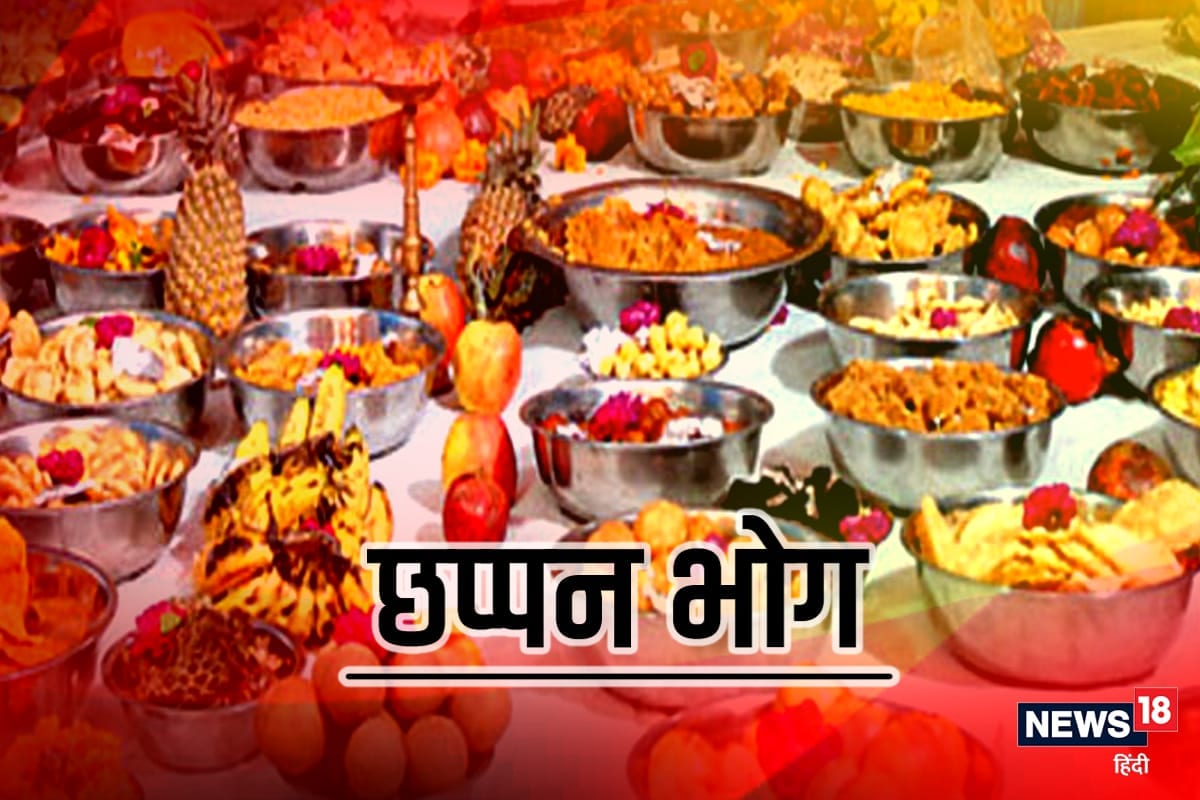 Lord Krishna 56 Bhog: There has been a tradition of offering Chappan Bhog to Lord Krishna. This bhog of God is also called Annakoot. It is said that such food items are offered to Murlidhar in Chappan Bhog, which is considered to be prohibited during the rainy season. There are many stories in the Puranas about Chappan Bhog. According to a legend, the tradition of Annakut is related to the pride of Devraj Indra.
Devraj Indra was enraged by Lord Krishna worshiping Govardhan. Later, when he realized that Shri Krishna was the real God, he apologized. Meanwhile, Shri Krishna was fasting for 7 days. It is believed by Shri Krishna scriptures that Mother Yashoda used to feed Bal Gopal for 8 o'clock in a day, that is, Shri Krishna used to take food 8 times in eight prahars.
When Lord Krishna lifted the Govardhan mountain from Indra's anger, he could not take food and water for 7 consecutive days. After this Mother Yashoda made 56 bhog for Balakrishna. On the 8th day when Indra stopped the rain while apologizing to Shri Krishna, Shri Krishna ordered all the Brajwasis to come out from under the umbrella of Govardhan mountain.
Read also: Janmashtami 2021: Offer white butter to this Janmashtami Laddu Gopal, prepare like this
At that time, Brajwasis and Mother Yashoda did not like Muralidhar's fasting for 7 days. Then Mother Yashoda, along with the people of Braj, made 56 types of dishes according to 7 days and 8 hours for Balakrishna and offered Mahabhog to Shri Krishna.
56 Bhog was made in the procession of Shri Krishna
It is also said in the Bhog Shastras that when Lord Radha went to Barsana to marry Rani Radha with the procession, 56 bhog was prepared on behalf of Shri Vrushabhanji to welcome her procession. The number of all the guests who attended this marriage ceremony was also 56. The sum of 9 Nands, 9 Upananda, 6 Vrishabhanu, 24 Patrani and Sakhas who dedicated 56 Bhog in the marriage ceremony to Shri Krishna was also 56.
Read also: Khajur Burfi Recipe: It is very easy to make date barfi, follow this method
Dishes included in Chappan Bhog
1. Bhakta (Bhaat)
2. Soup (Lentils)
3. Praleh (chutney)
4. Avaleh (Sharbat)
5. Balka (Bati)
6. Ikshu Kherini (Marmalade)
7. Sadika (Curry)
8. Dadhishakaja (curd curry curry)
9. Sikharini (Sikhran)
10. Triangle (containing sugars)
11. Appendix (Complete)
12. Centipede (Khajala)
13. Sadhdrak (Ghevar)
14. Batak (Large)
15. Madhu Title (Mathri)
16. Fenika (Feni)
17. Karpoornadi (Longpuri)
18. Childika (Chola)
19. Sudhakundalika (Jalebi)
20. Dhritpur (Mesu)
21. Vayupur (Rasgulla)
22. Chandrakala (tangled)
23. Dadhi (Maharayata)
24. Thuli
25. Chakram (Malpua)
26. Khand Mandal (Khurma)
27. Godhoom (porridge)
28. Parikha
29. Sufaladhya (with fennel)
30. Dadhiroop (Bilsaru)
31. Modak (Laddus)
32. Shaak (Saag)
33. Saudhana (Adhanau Pickle)
34. Mandaka (Large)
35. Payas (Kheer)
36. Dadhi (curd)
37. Goghrit (cow's ghee)
38. Hayangpeenam (Butter)
39. Manduri (cream)
40. Alpika (Rabri)
41. Parpat (Papad)
42. Shaktika (Sera)
43. Lymph
44. Suvat
45. Sanghay (Mohan)
46. ​​Suphala (Betel nut)
47. Sita (cardamom)
48. Fruits
49. Tambool
50. Mohan Bhog
51. Salts
52. Astringent
53. Sweet
54. Tikta
55. bitter
56. Acid
(Disclaimer: The information and information given in this article is based on assumptions. Hindi news18 does not confirm the same. Please contact the relevant expert before implementing them.)
Read Hindi News online and watch Live TV News18 on Hindi website. Know news related to country and abroad and your state, Bollywood, sports world, business.