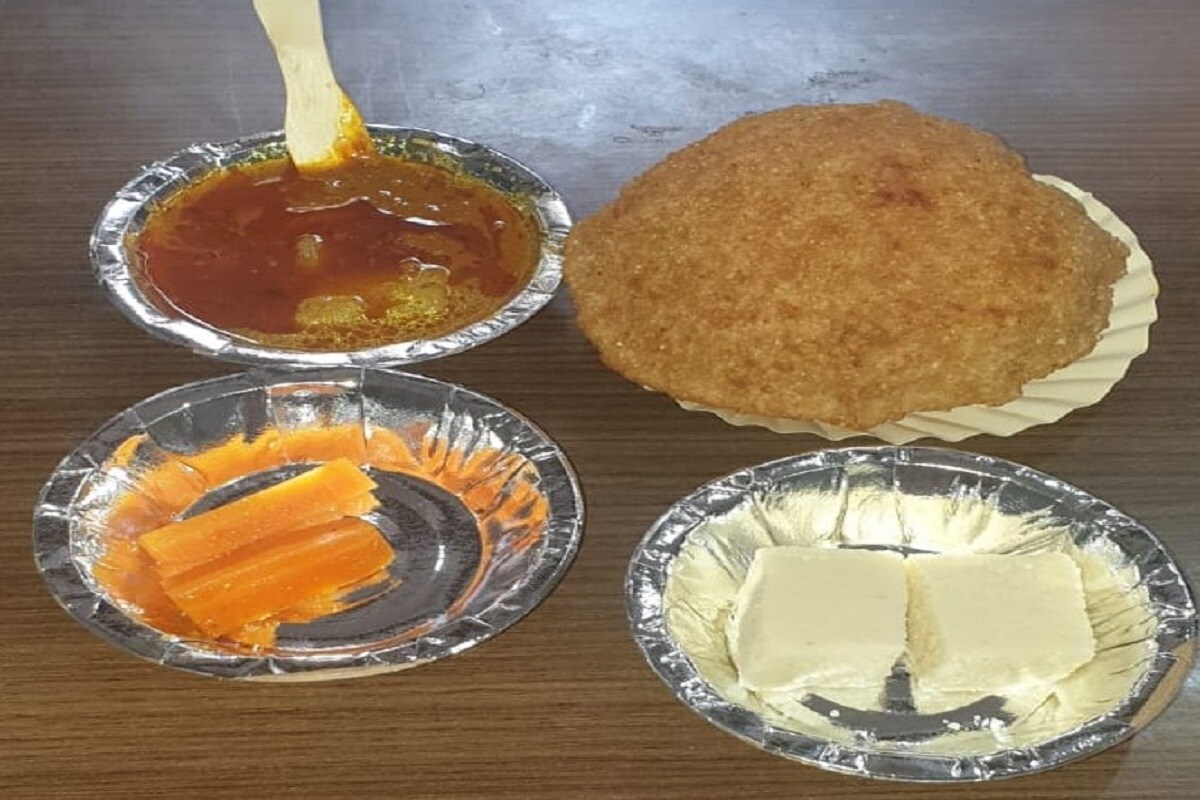 (Dr. Rameshwar Dayal) The age-old tradition in the capital continues even today that in the morning people go to the confectionery shop around them and eat breakfast. There is no special variety in breakfast in this area. Whole-vegetables will be found in any confectionery shop, then somewhere shortbread and vegetables. There is a possibility of getting jalebi in sweet, that is, not much frills, but this breakfast is very much liked by the people of Old Delhi and they seem satisfied after eating it. If you walk through the streets of Old Delhi in the morning, then the crowd at the confectionery shops will tell that the old trend continues even today in this walled city. Today we will tell you about such a shop in Old Delhi where breakfast of Bedmi Puri and traditional potato curry starts in the morning and continues till evening. In the name of sweet, special sweets are served at this shop. Its name is 'Rewari Wali Doodh Ki Barfi'. This sweet has a different taste.
You will reach this shop through the old streets
The name of this old confectionery shop in Chandni Chowk area of ​​Old Delhi is 'Rewari Sweets Bhandar'. This shop is present in the famous area of ​​Maliwada, where the business of gota-zari is done since the Mughal period. You can reach this shop by two ways. When you walk from Red Fort towards Chandni Chowk Main Bazar, after going ahead of Gurdwara Sheeshganj, the next street from Paranthe Wali on the left will come to Moti Bazar. On going inside and going to the right, people will tell the address of the shop. The second way is also easy. If you turn from Chandni Chowk to the new road, then turn left at Jogiwada Chowk. This street will also lead directly to the shop. We have given this information to you so that you can also have a glimpse of Old Delhi, get to know the name of the streets there and also assimilate the mood of Old Delhi a little bit.
Flavorful snack of potato curry that exudes the aroma of Bedmi Puri and Asafoetida
In the morning, there is a crowd of people at this shop and there is a movement of eaters throughout the day. There is only one food you will get here for breakfast and that is Bedmi Poori and Traditional Aloo Ki Sabzi. no frills. You will be served potato curry in silver bowls and two bedmi in a paper plate. Methi chutney is left on top of the vegetable and two slices of carrot pickle are also given. When you eat hot, puffed bread stuffed with urad dal patti with pungent potato curry (which has a strong aroma of asafetida), it seems that it is a wonderful breakfast. The tradition of Lalaji's shop is come, eat and go. After eating this dish of Rs 50, you will really feel that you have eaten breakfast of Old Delhi. The specialty of this breakfast is that sour cream is not used in it.
Is Rewari milk barfi or frozen cream
It is one of the habits of most people that if something sweet comes with the food, then it will be fun. The sweet here is also different and that is the milk barfi of Rewari. Call it frozen cream instead of barfi, it will be more fun. Take two pieces of both, put them in the mouth and when it dissolves, wah-wah will start coming out of your mouth automatically. With breakfast, 100 grams of barfi for 50 rupees will satisfy you so much that you will feel that today we have come to the gym from Jajman's place. You can take one kg of this jalebi at home for 500 rupees. For sweets, there is also another item Gulab Jamun at this shop, but people's mind is only in milk barfi.
Sold barfi from Rewari 70 years ago, then started breakfast
The owner of this shop, built in the taste of Old Delhi, belongs to the old area of ​​​​Rewari city. The shop was started by Brij Bhushan Rastogi in the year 1950. For the first 10 years, he brought barfi from Rewari and sold it. People said that Lalaji, you will continue to feed sweets, give some salty to your mouth, then they started selling the traditional vegetable of Bedmi and potato, which is now famous all over the area. The people of Old Delhi who have left this area, when they come to Old Delhi, they definitely taste Lalaji's breakfast. This shop is being handled by Lalaji's son Ajay Rastogi. They say that purity is the identity of our shop. The shop opens at 8 am and food is available till 5 pm. The shop is open throughout the year. No holidays.
Nearest Metro Station: Chandni Chowk
Read Hindi News online and watch Live TV News18 on Hindi website. Know news related to country and abroad and your state, Bollywood, sports world, business.