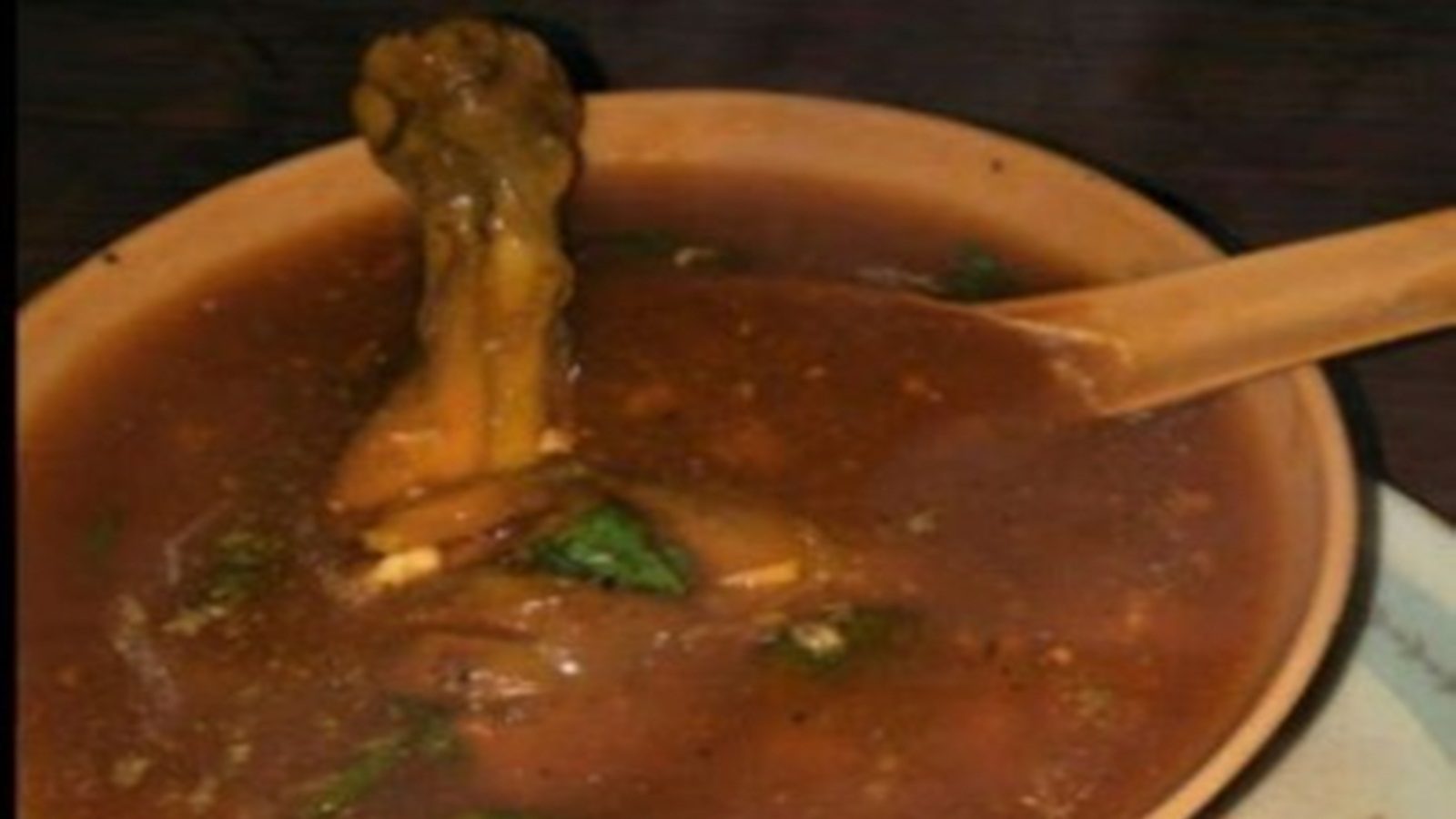 Delhi NCR Food Outlets: (Dr. Rameshwar Dayal) Whenever we talk about soup, only Chinese soup dominates the mind and tongue. If we are vegetarian then we will give preference to tomato or veg soup. If we are non-veg then our choice will be chicken soup. But these soups are such in which there will be a tinge of Chinese taste. Because, to enhance the taste, ajinomoto (monosodium glutamate) will be added to it, as well as vinegar, green sauce etc. will also be added to make the taste different. Actually this is not an Indian soup (broth). The life of Indian soup is the hot spices, along with the spiciness of red chilies. If this soup is of special non-veg then enjoy it. Today we take you to a shop whose non-veg soup strengthens bones. He made only mutton and chicken Bones Comes with a distinctly Indian taste. There are very few shops in Delhi where this type of soup is served.
Non veg only non veg, no veg soup
The first question is whether this type of soup really strengthens our bones. Scientific discussion on this will happen again sometime, but it is common belief that such soups really strengthen bones. So today we are taking you to a similar soup shop. There is a shop of 'Pinki Soup Corner' in DDA Market in Sector-16 of Rohini located in North-West Delhi. There is no concept of vegetarian soup here. Drink any soup, non-veg or non-veg. Along with neither roti, nor paratha nor bread.
If you really want real non-vegetarian soup (broth), you will find it here. Now listen to how the soup is made. What non-vegetarians consider to be the original soup is that of kharode (goat's foot), which is also called paye. It is in great demand here. You will say that if I want to drink chicken soup, then it is present in the form of tangdi (leg piece). Apart from this, apart from chicken bones, boneless soup will also be available. Apart from this, different types of chicken liver (Liver or Giblet) soup is also present.
What the non-vegetarians consider to be the original soup is of Kharode (goat's feet).
Soup of kharode and chicken tang is wonderful
Since only bone soup is available here, its recipe will also be different, only then will bone soup be made. It takes a lot of effort to make Kharoda Soup. In the spices standing overnight, the Kharods are put in water and left to boil overnight in low flame. By morning his condition would have been such that the soup came out from the skin of Kharod's bones and his bones became so soft that it could be broken with a finger. It takes a little less time to make the rest of the soup, but the goal is the same, that the bones have to be smelted in any case.
Also read- From Soyachap and French Fries to various types of pakodas, taste the taste of 'Brinda Pakodawala' in Hari Nagar
Only green chutney and chopped onions are served with these soups. Drink and enjoy the original soup. The cost of single kharode soup is Rs 170. If you want double tangdi soup, that too is available for Rs 170. If a full bowl of boneless chicken costs Rs 90, then boneless will cost Rs 110. Kaleji soup will be available for Rs 130.
Here a full bowl of boneless chicken is priced at Rs 90, so boneless will cost Rs 110.
The shop is running for about 18 years
This soup business was started 18 years ago by Rajendra Kumar Dhingra (Pinky). For about six years, he sold soup on the street vendors, then took the shop on rent and now has his own shop. He says that he brings whole spices from the market and grinds them according to his own use for soup. He says that he was also fond of soup. But he did not get his favorite soup in Delhi. So started this work myself.
Also read- If you want to eat pizza, macaroni, veg mince samosas, then come to 'Ramji Variety Samosa' in Palam
Gradually, his soup got on the tongue of the people. Now the condition is that he sells only soup for 12 months and people are liking it too. There is no adulteration in the soup, empty bone soup is their USP. Nowadays his son Harsh Dhingra is also helping in this work. Soup starts at 4:30 pm and the movement of people continues till 11 pm. Tuesday is a holiday.
Nearest Metro Station: Rithala
Read Hindi News see more online Live TV News18 Hindi website. Know related to country and abroad and your state, Bollywood, sports world, business News in Hindi. Us Facebook, Twitter, Instagram And Telegram Follow on.
Tags: Delhi, Food, Lifestyle, Street Food