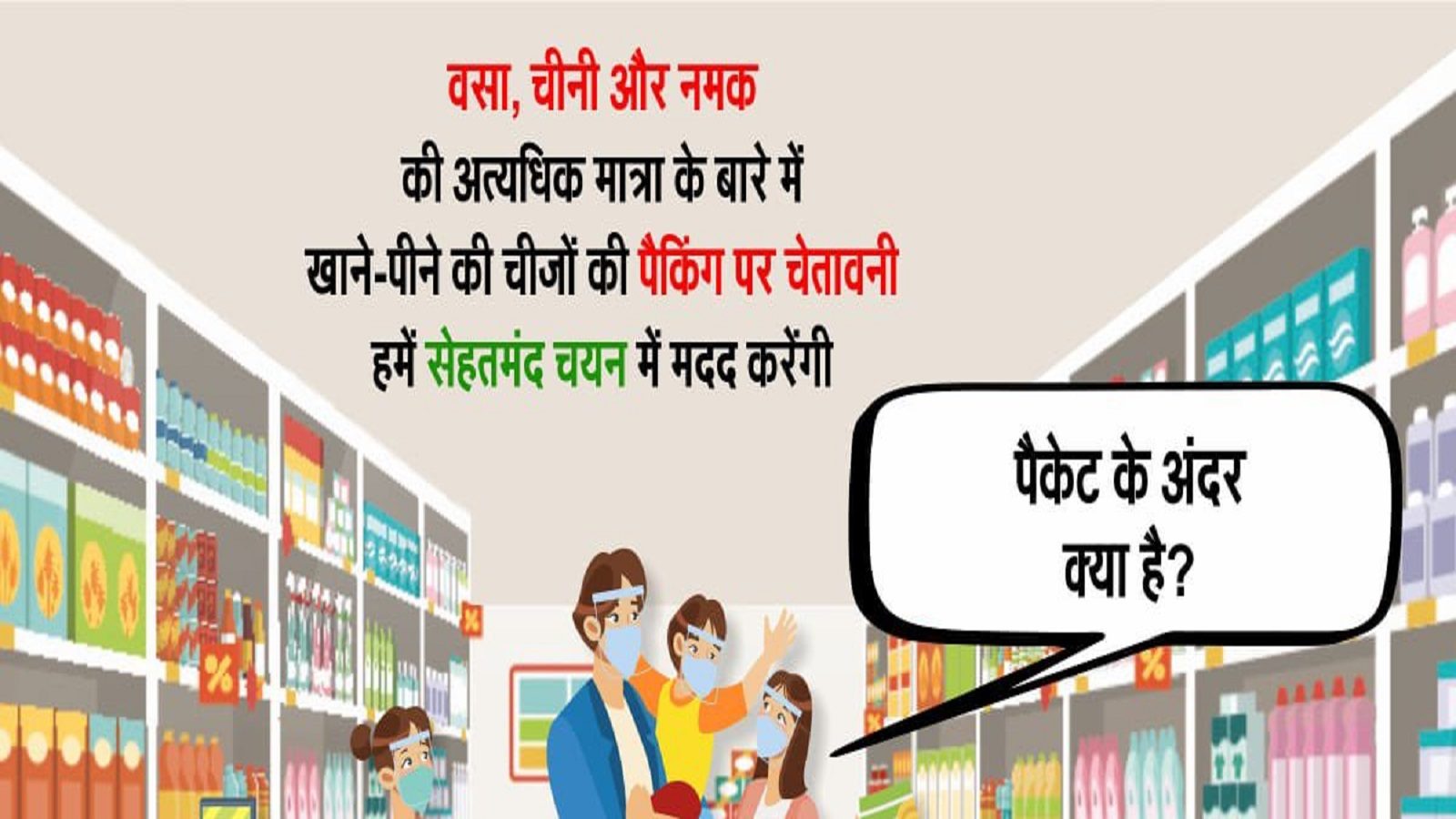 New Delhi. In the period of Coronavirus, packaged food items are posing many dangers to health. Top health experts and organizations across the country have warned about the health effects of dangerous amounts of fat, salt and sugar. They have demanded that now at the earliest, a clear warning should be put up on such packaged food items as well.
The front-of-packet label system introduced like tobacco products in many countries has seen an immediate change in the eating habits of the people. Experts have said that if the country is to be saved from the great danger of diseases, then it is very important to start health warnings on such products immediately.
In order to make people addicted to these products by making them more delicious, a lot of fat, salt and sugar are being used in them, which increases the risk of cancer, heart diseases and liver diseases significantly.
read this also: Women are not able to quit cigarette addiction sooner than men – Research
Demand to implement warning on packaged food items
Many organizations working in the field of health and nutrition have come out in support of the demand to implement warnings on packaged food items that pose a danger to health. Organizations like Nutrition Advocacy in Public Interest (NAPI), Indian Association of Preventive and Social Medicine (IAPSM), Pediatric and Adolescent Nutrition Society, Epidemiology Foundation of India, Breastfeeding Promotion Network of India (BPNI) have called for its immediate implementation. .
Warning helps in choosing the best product for health
During a webinar on this topic, nutritionist and teacher at the Center for Nutrition at the University of So Paulo, Brazil, Neha Khandpur cited several researches from around the world to prove the effectiveness of such warnings. He said that based on the research done in different countries, it is clear that warnings giving clear information to the people regarding salt, sugar and fat are very effective. Such warnings help people to choose better products for health.
read this also: Wake up at midnight and eat these 5 things, change this habit today
Experts of Epidemiology Foundation of India have warned that this business is growing continuously and in view of the huge profits, they will try their best to hinder the implementation of any such system.
Right to health is a fundamental right of every person
Indian Association of Preventive and Social Medicine (IAPSM) President Dr. Sunila Garg said that the right to health is a fundamental right of every individual. Also the health of the younger generation is the asset of the nation. Therefore, it is necessary that the state and central governments introduce the rule of warning labels on the packaging of harmful food products and beverages containing high sugar, salt or fat.
read this also: To reduce the risk of corona, then eat a diet rich in vitamin-D
Rapid increase in the use of sick food products
Dr. Arun Gupta, a member of the Prime Minister's Nutrition Council and convener of the Nutrition Advocacy in Public Interest (NAPI), said that there has been a rapid increase in the use of sick food products. If this is not stopped immediately, then in the coming decade, India will also join the obesity-prone countries like Britain and America. Unless such rules are made mandatory, the industry will not follow it. Because their motive is only to make profit.
Read Hindi News online and watch Live TV News18 on Hindi website. Know news related to country and abroad and your state, Bollywood, sports world, business.