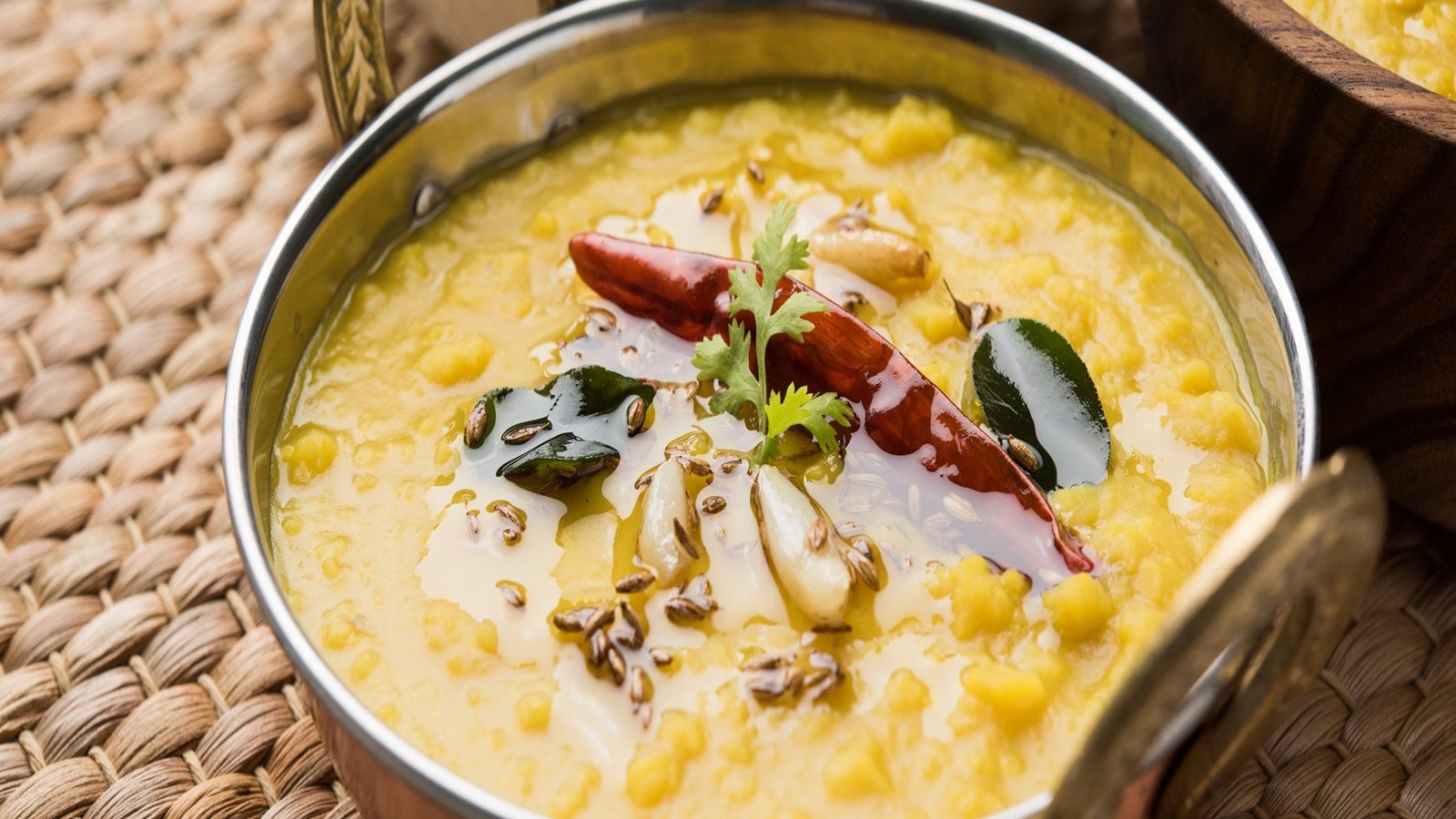 Dal Fry Recipe: While eating food at a hotel or dhaba, it is hardly the case that no one should order dal fry. Without it, the food seems incomplete. The taste of dhaba dal is not forgotten. If you also want to make Dhaba flavored Dal Fry at your home, then we are going to tell you its method, which you will easily prepare by following it. This recipe is also very popular in Punjab (Pujnabi Recipe) which is prepared by mixing many pulses. It can also be made with only gram dal and tur dal.
Ingredients for Dal Fry
Toor dal – 4 tbsp
Moong dal – 3 tbsp
Chana dal – 3 tbsp
Water – 1.5 cup + 3/4 cup
Onion (finely chopped) – 1
Tomato (finely chopped) – 1
Green chilies (finely chopped) – 3
Ghee – 2 tbsp
Ginger grated – 1/2 inch
Garlic buds (ground) – 4
Cloves – 3
Cumin – 1/2 tsp
Red chili – 2 dry
Cinnamon
Garam Masala – 1/4 tsp
Turmeric Powder – 1/4 tsp
Red chili powder – 1/2 tsp
Coriander Powder – 1 tsp
Lemon juice – 1 tsp
Green coriander (finely chopped) – 2 tbsp
Salt – as per taste
How to make Dal Fry
To make Dal Fry, first of all take all the pulses and wash them thoroughly in water. After that soak them in water for 10 minutes. Now put the dal mixture in the pressure cooker. Now put salt and one and a half cup of water in it and close the lid of the cooker. Now put the cooker on high flame. When the first whistle comes, reduce the flame to medium. Cook the pulses till three whistles come in the cooker.
Also read: Punjabi Aloo Paratha: Make Punjabi Style Aloo Paratha at Home, Follow These Steps
Now turn off the gas and open the cooker only after it cools down. This will cook the dal well. Now remove the lid of the cooker. There is no need to mash or grind the dal. Now prepare for tempering. Heat ghee in a pan on medium heat. When the ghee is hot enough, add cumin, red chili, cloves and cinnamon to it. Then when it starts crackling, add onion to it and keep stirring it well with a ladle. Fry it till the onion becomes light brown.
Now fry the ground ginger, finely chopped green chilies and garlic. Now add finely chopped tomatoes and salt to it. Cook it till the tomatoes become soft. Then add garam masala, red chili, coriander powder and turmeric and mix it well. Now add boiled lentils to it and cook for about 1-2 minutes.
Also read: Tired Of Eating Routine In Dinner? Try These 5 Recipes

Now add lemon juice and 3/4 water to it and let it cook on medium flame for 5 minutes. Keep stirring it in between. Switch off the gas after 5 minutes. Now your Dhaba style dal fry is ready. Now take it out in a vessel and serve it by adding finely chopped coriander on top.
Read Hindi News online and watch Live TV News18 on Hindi website. Know news related to country and abroad and your state, Bollywood, sports world, business.