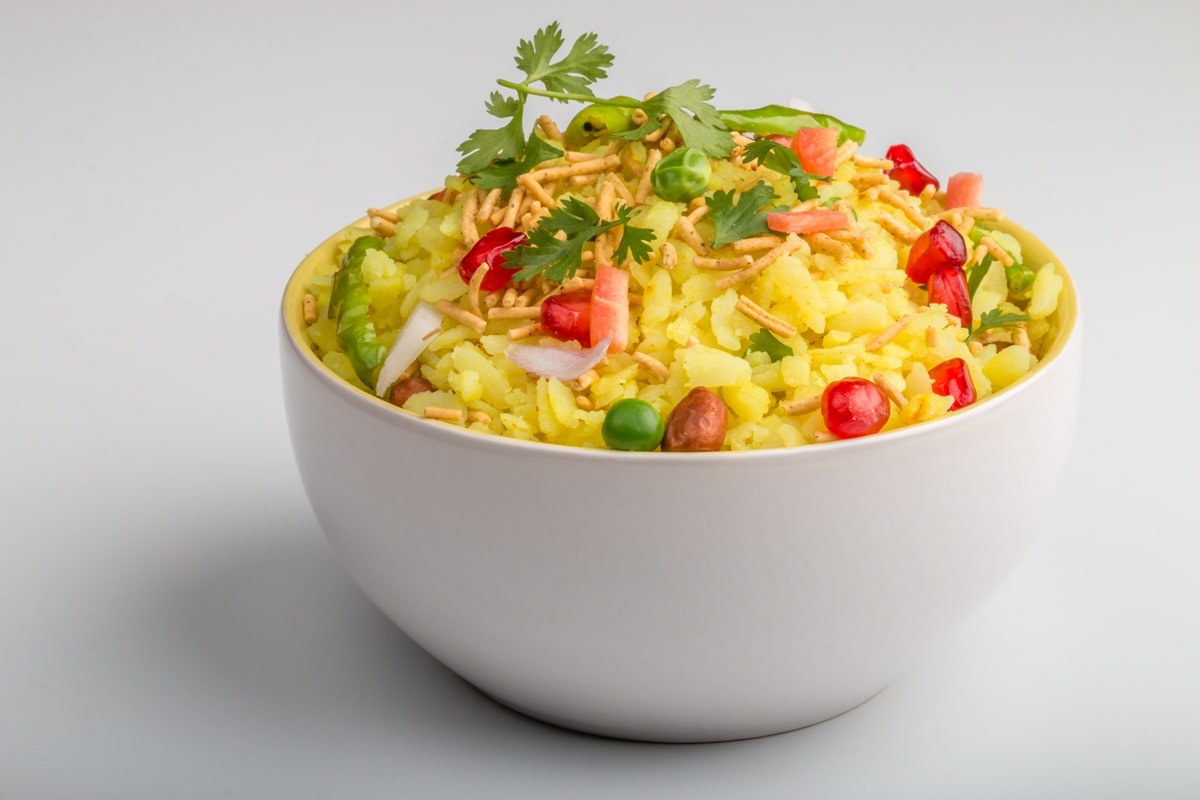 Indori Poha Recipe: After all, what should be made in the daily breakfast which can be prepared soon and is also tasty. In many homes, women suffer from this type of problem every day. Sometimes it takes a lot of time to prepare different varieties of food. In such a situation, he wants to learn the dish to be prepared immediately. While removing this problem, we are going to tell the method of Easy Poha Recipe. The taste of Indori Poha is liked in every corner of the country. We will tell you how to make perfect Indori Poha in just 10 minutes. Eating which everyone will not get tired of praising the taste of your hand.
Ingredients of Indori Poha –
Poha – 2 cups
Onion (chopped) – 1
Chilli (chopped) – 4 to 5
Pomegranate seeds – 1/2 bowl
Sugar – 1 tsp
Mustard seeds – 1 tsp
Fennel – 1 tsp
Turmeric – 1/2 tsp
Green coriander – as per taste
Coriander leaves – 1 tsp
Peas – 1/2 bowl
Oil – 2 tbsp
Lemon – 1
Curry leaves – 12-15 leaves
salt to taste
How to make Indori Poha
To prepare Indori Poha, first wash the raw poha thoroughly with clean water 2 to 3 times. After that keep it in a sieve. Now heat oil in a pan on medium heat. When the oil is heated well, add mustard seeds, coriander leaves, curry leaves, fennel and asafetida and temper it. When mustard seeds start crackling, add peas, green chillies and onions in the pan and fry till the onions turn pink. Meanwhile, put turmeric powder, salt, sugar on top of the poha kept in a sieve and mix it well.
After this put the poha in the pan and mix it well with a ladle. Now cover the pan with a plate for 2-3 minutes and let it cook on medium flame. After this sprinkle some water to soften the poha. After turning off the gas, keep the poha covered for the next one minute. Now your Easy Indori Poha is ready.
Now serve it by adding chopped onion, sev, chopped green coriander, pomegranate seeds, lemon. With this method, not only will it be perfect, but Indori will be prepared at home itself.
Poha can be enjoyed.
Read Hindi News online and watch Live TV News18 on Hindi website. Know news related to country and abroad and your state, Bollywood, sports world, business.