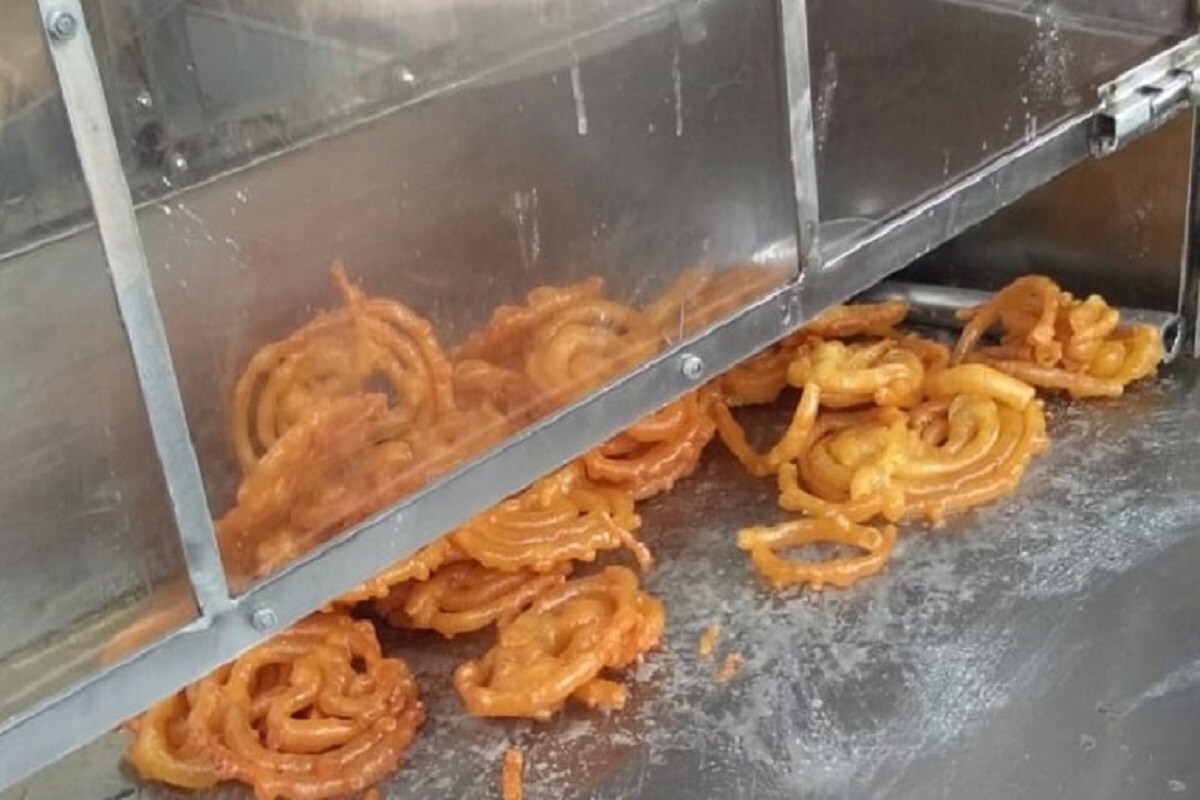 (Dr. Rameshwar Dayal)
Old Famous Jalebi Wala: While traveling in Chandni Chowk, the heart of Old Delhi, as soon as you start smelling the sweet smell of desi ghee, then understand that you have reached the shop of the oldest Jalebi Wale in Delhi. When Jalebi is fried in desi ghee and after that, when it is taken out by swimming in sugar syrup, then water comes in the mouth. Its solution is that you taste the taste of jalebi as soon as possible. Let us tell you that cine star Raj Kapoor has been fascinated by this desi ghee jalebi, as he was seen on 'Radha' of the film 'Sangam'.
bigger than normal jalebis size of this jalebi
As soon as we enter the historic Chandni Chowk market from the Red Fort, there is this Jalebi Wale's shop on the left side of the road leading to Dariba Kalan. When jalebis are fried in desi ghee at its shop, the whole area starts smelling. Now let's talk about Jalebi. The size of the jalebi sold at this shop is slightly larger than other jalebis, hence the people of Old Delhi call it jaleba. For us, this is the old jalebi one. Since the size of its jalebi is big, it will not be crispy, but the taste of this jalebi dripping with syrup is different from other jalebis. This is the specialty of this jalebi.
It is said that whenever Raj Kapoor used to come to Delhi, he used to eat jalebi of this jalebi person.
Always take hot jalebi taste
Most of the time you will get only hot jalebis at this shop. The reason is that according to the presence of the customer, jalebi is fried in desi ghee from time to time. Nowadays the price of jalebi is Rs 500 per kg. If you want, you can take 50 grams or 100 grams of jalebi. The shopkeeper will present it in two and taste this jalebi dripping juice by standing there at the shop. You will always see a crowd at the shop, as the hustle and bustle of Chandni Chowk also passes by, so be extra careful with your purse or bag while enjoying the jalebi. There is also the facility of packing.
Also read: You must not have eaten 'Japanese Samosa', reach Delhi's Manohar Dhaba to take a test

peas if you like or potato samosa can also be tasted
Since the name of the shop itself is 'Old Famous Jalebi Wala', it is obvious that its Jalebi will be very famous. But let us tell you that the samosas of this shop can also fascinate your heart. When the samosas fried in hot desi ghee come out of the pan, your mind will be tempted. You may burn your tongue while eating these hot samosas. Pea samosa is priced at Rs 25 at the shop, while potato samosa costs only Rs 20.
Also read: This is a divided lemon shop in Delhi, everyone is hugging before independence
Raj Kapoor whenever come to Delhi, Must taste this jalebi
This shop is considered to be the oldest Jalebi shop in Delhi, so keep reading its history with your hands. This shop was started by Lala Nemchand Jain in the year 1884. He had come to Delhi from Punjab province with only two rupees. He started selling jalebis in Chandni Chowk, which is still being sold today. Today their future generation is handling this business. It is said that whenever Raj Kapoor used to come to Delhi, he used to eat jalebi of this jalebi person. Jalebi would be taken to the hotel where he stayed. The shop opens at 8 am and Jalebi can be tasted till 10 pm.
Nearest Metro Station: Red Fort