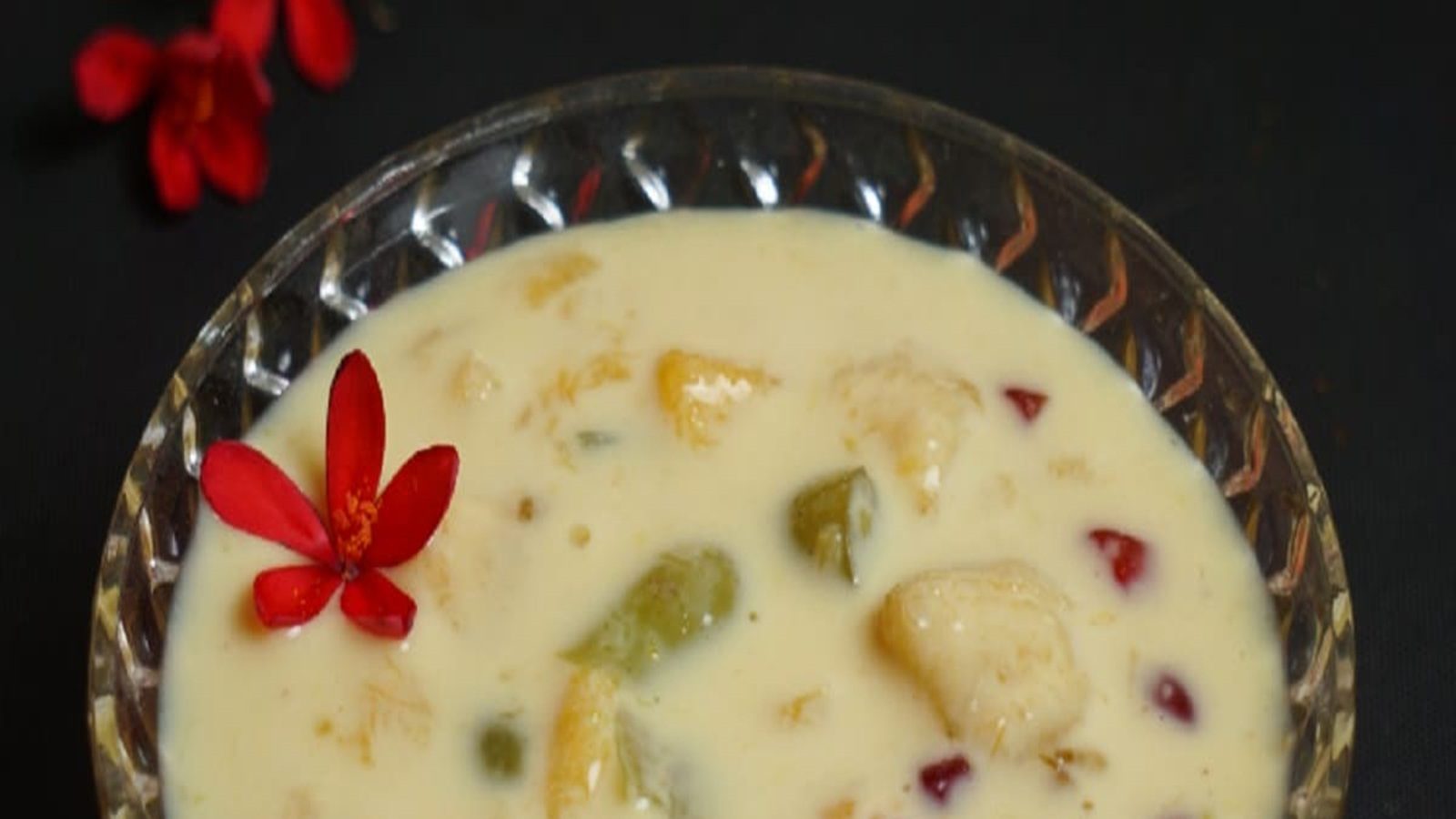 Fruit Custard Recipe: Fruit Custard is a quick and easy dish to make. It is nutritious as well as delicious. Children also like it very much. This recipe prepared with mixed fruits and milk is also very good for any function at home. of this recipe
The biggest feature is that if needed, it can be increased anytime by mixing the ingredients in proportion. It can be enjoyed even after having lunch or dinner. Fruit custard can be a very good dish to make a special occasion more special.
Ingredients for making Fruit Custard
Milk – two and a half cups
Vanilla Custard Powder – 2 tbsp
Sugar – 1/4 cup
Mix fruits (chopped) – 2 cups
How to make Fruit Custard
To make fruit custard, first take 2 tbsp of custard powder in a bowl. Now add 1/4 cup milk to it and mix it well. While mixing, keep in mind that no lumps of powder remain in it. Now take a thick surfaced wok/non stick pan and heat 2 cups of milk in it on medium flame. Let the milk come to a boil. Take care that the milk does not stick while boiling and keep stirring the milk in between with a spoon.
Also read: Punjabi Doda Barfi Recipe: This Festive Season Make Punjabi Doda Barfi at Home, Here is the Recipe
When milk comes to a boil, add 1/4 cup sugar to it. Now turn off the gas and add milk custard powder mixture to it. Mix it well then keep it on low flame on the gas. Cook it till it becomes thick. During this also, keep stirring the milk from time to time with a spoon to prevent burning.
Now take out this mixture in a big bowl. The custard will thicken as it cools. Let it cool down to room temperature first, then cover it and keep it in the fridge for at least an hour so that it cools down properly. Now your custard is ready.
Also read: Recovery after corona infection? Boost immunity with this healthy food chart
Now take mixed fruits. (In this you can take grapes, banana, mango, apple, strawberry or any other fruit). Now cut these fruits into pieces. Fruits can also be selected according to the season and availability of fruits in the market. Now after an hour take out the custard from the fridge and add chopped fruits to it.
After mixing the fruits well in the custard, keep it in the fridge to cool down once again. Now the fruit custard prepared by you is ready to serve.
Read Hindi News online and watch Live TV News18 on Hindi website. Know news related to country and abroad and your state, Bollywood, sports world, business.