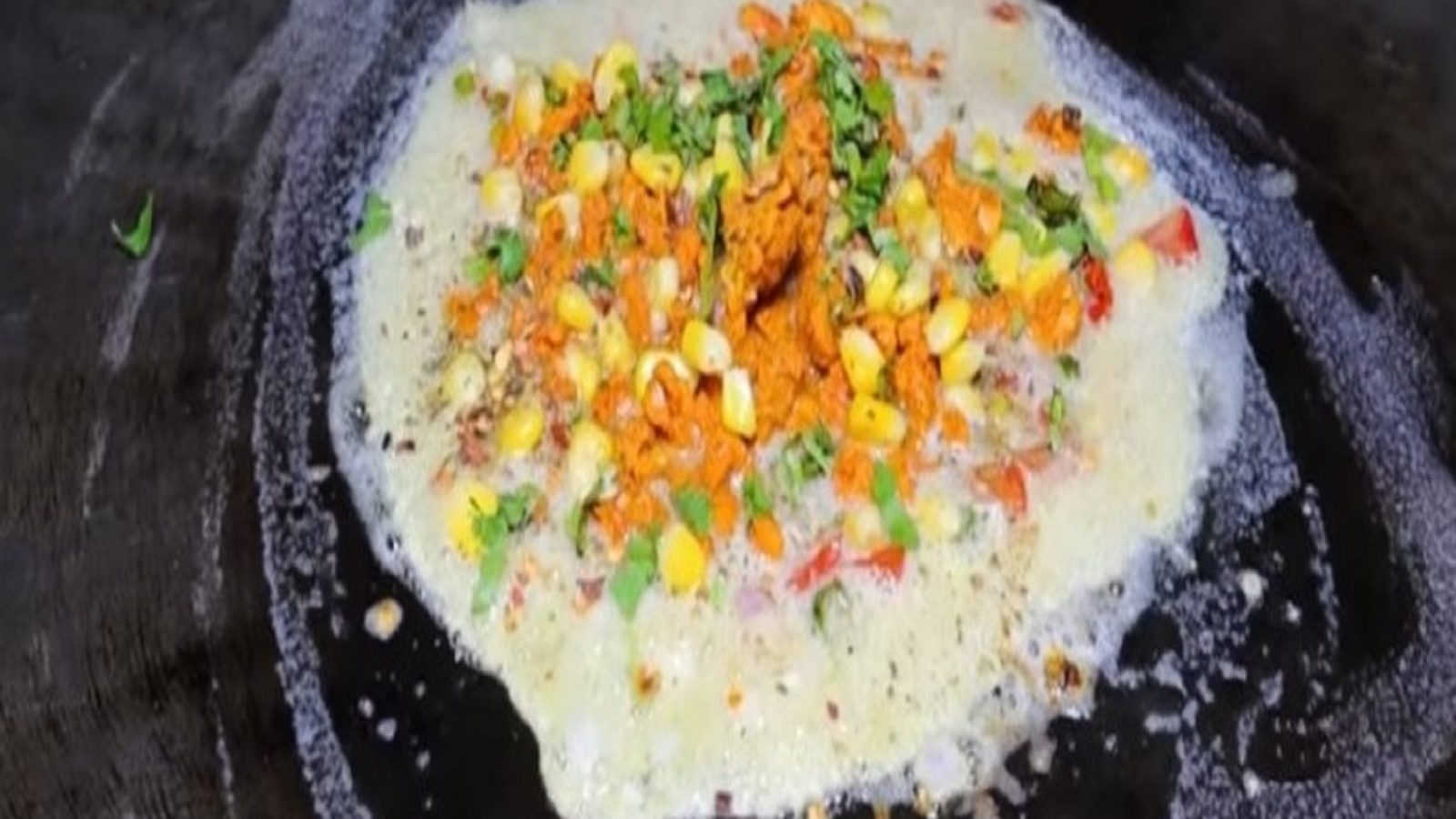 (Dr. Rameshwar Dayal)
Famous Food Joints In Delhi-NCR: You must have heard a famous song from the Hindi film 'When it is dark, after midnight, a… comes out, black si road pe… Yeh voice comes…' Now in this song according to our Famous Food Joints In Delhi Let's change: – 'When it is dark, after midnight, a thia opens, on the black road… this sound comes Egg Junction-Egg Junction.' So we want to tell you that there is probably only one shop in Delhi, which opens after midnight and closes as soon as the day is over. Young people gather at this place, not thieves, who want to eat something special. Well, eggs are sold in a wonderful way. Till now you must have heard about boiled eggs, bhurji and omelet, but cheese is mixed in eggs at this shop. If you want to eat more wonderful eggs, then chicken pieces are mixed in it.
If you want to have some other taste, then chicken kebabs and salami are also added to it. To make this egg dish rich, brown Kulcha is fried in butter and served on both sides of this omelet. Meaning this omelet has a lot from Amul Butter, Egg, Chicken, Kebab, Salami to many more.
Also read: Eggs are being sold for 40 years, definitely eat omelet in Kanti Nagar's 'Raju Anda Bhandar'
Omelette has everything from butter, chicken, kebabs to more
When the Tilak Nagar area of ​​West Delhi becomes completely dormant after nightfall, a light starts lit near Gate No. 2 of Tilak Nagar Metro Station. In the area it is famous as Egg Junction. It is awakened not exactly midnight, but before dawn at 3:30, when the whole area is taking its last night's sleep. Here the youth starts coming even before the work of eating and drinking starts. Since the name of this dish is on the egg itself, then it can be assumed that only some special dish will be found here. Yes, the omelet of this dish is very famous, which may be found elsewhere. Listen to the names of omelettes, Simple Cheese Omelette, Chicken Cheese Omelette, Chicken Kebab Cheese Omelette and Chicken Kebab Cheese Salamis Omelette. The special thing is that instead of bread slices, brown kulcha is served with them.
Omelette has not become a treasure of food
The way this dish is made, it is a pleasure to see it, it is fun to eat together. We tell you how to make Chicken Cheese Omelette. First, a piece of Amul butter is heated on a pan. After heating, the egg is spread on it by beating it. When it starts to cook a little, the chicken pieces are added. Boiled corns are also sprinkled with them. When it is cooked completely, then pieces of green coriander are spread on it. The issue does not stop here, cheese slices are placed on top. Ketchup, mayonnaise, mustard sauce are poured over it and it is shown that the delicious taste is going to reach the tongue.
This dish is kept on the side of the pan. Once again butter is poured on the pan. In that hot butter, two brown kulchas are baked well. By placing a special omelet in the middle of these Kulchas, the Kulcha is cut into four pieces and served on a plate by putting special spices on it. Now you must have understood how delicious, rich, smooth and soluble in food it will be. The price of this special omelet ranges from Rs 130 to Rs 250.
There are specials that go out for late night dinner, so opened
If you want to eat simple butter omelet or veg kulcha, then that is also available. Since it is an issue of the night and the eaters will also be special, then a similar variety of Maggi is available for them. Three types of steam, fry and tandoori momos are also available. Along with this, chicken wings and tangdi will also be available. All this food is not more than 300 rupees. As soon as there is movement of people in the morning and it is 8:30. Peace prevails at this place. Himanshu, the young man who started Thee, says that he himself is a food lover. During college, he used to roam all over Delhi and eat special dish items.
Also read: If you want to eat Continental-Indian street food, then taste the Yellow Bowl
Later, I thought that something special should be done and five years ago I opened this shop. When asked why he started the business at night, he says that there is neither traffic nor crowd tension at night. There is peace and the simple thing is that one who is fond of eating at night, needs something special. So he started his egg junction at night. First started the normal egg fry, omelet, then changed it to woo the youth. The shop is open for seven days.
Nearest Metro Station: Tilak Nagar
Read Hindi News Online Watch More Live TV News18 on Hindi website. Know related to country and abroad and your state, Bollywood, sports world, business News in Hindi.