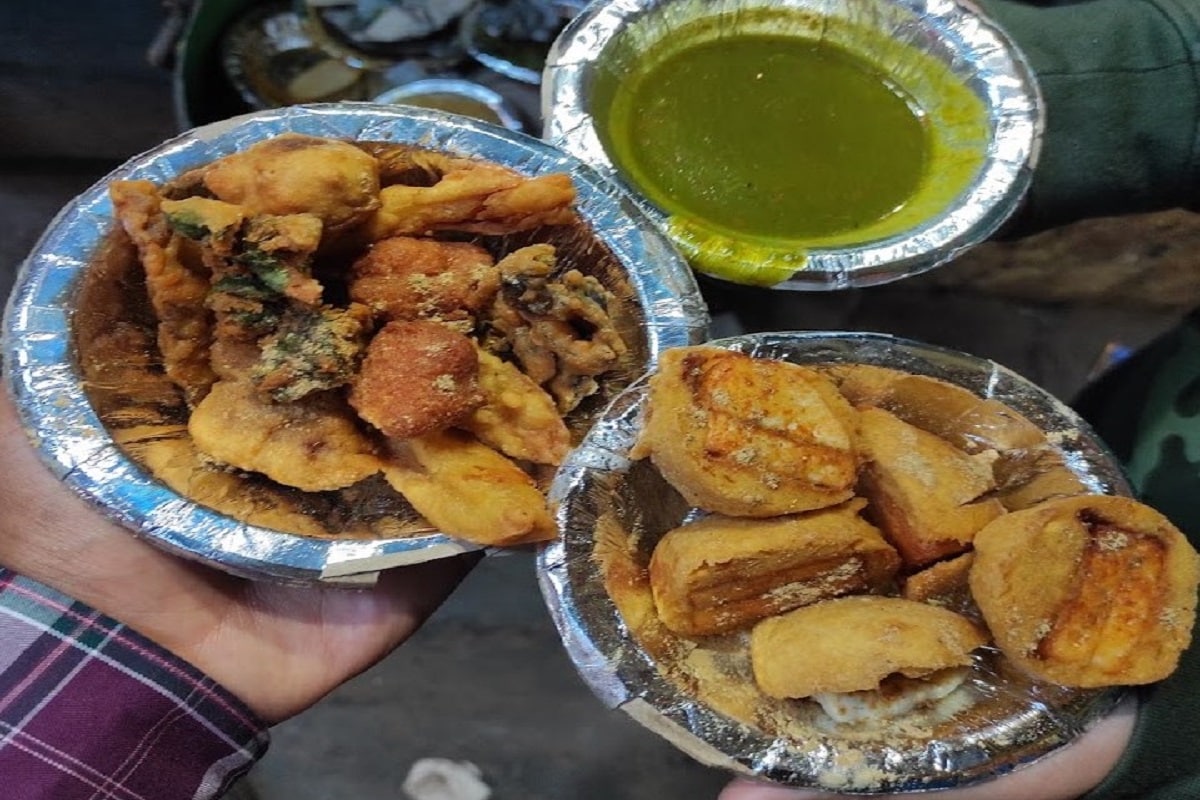 Famous Food Joints In Delhi: (Dr. Rameshwar Dayal) It is not necessary to go there to eat the spicy and humiliating pakodas of Chandni Chowk, a special area of ​​Old Delhi. Now you will get to eat these pakodas in West Delhi as well. The famous dumpling shop of Chandni Chowk is now open in Rajouri Garden area as well. As soon as you eat pakodas from this shop, you will start to believe that the taste is really different and spicy. Normal dumplings will be found here in delicious taste, along with moong dal pakodas, gram lentils will also captivate your heart. These are pakodas which are a special identity of Old Delhi. Now he has also reached West Delhi.
The variety of pakodas is selective, but the fun is countless.
This pakode shop, drenched in the taste of Old Delhi, is open in Nehru Market, Rajouri Garden. Nearby is the Singh Sabha Gurdwara. From the name of the shop itself, it will be known that it belongs to someone from Old Delhi. The name is 'Chandni Chowk's famous Rajesh ji pakodas.' The name of the shop itself is revealing that special pakodas of Chandni Chowk are being found here. There is a different culture of feeding dumplings at this shop. The variety of pakodas is special. If you want, you can eat mixed pakodas. Whether you want to eat spinach pakodas or lentil pakodas, paneer pakodas, then the pakodas will be decorated according to your choice. Before serving the pakodas, spicy masala is also poured on them. Then it is offered by adding delicious green chutney. Meaning, full bliss is bliss.
Moong dal pakodas and gram lentils are big
Since it is an Old Delhi shop, there will not be much variety of pakodas to amaze you but whatever it is, it completes the interpretation of pakodas but adds to the fun. Whatever pakodas you see in the shop, they will also make your mouth water and will also make you crave to eat. Like moong dal pakodas, gram dal kalami big, spinach, potato, cabbage, green chilli paneer special pakodas. First, these pakodas are lightly fried once. Then those pakoras are fried again after the demand of the customer. Crispy from outside and soft from inside give different fun. Green chutney is the specialty of this shop but if you want sweet chutney then it is also available. You will get 100 grams of mixed pakodas for just Rs 25. If you want to eat only paneer pakodas, then you will get 100 grams for 30 rupees.
Along with pakodas, there is more in the shop
Old Delhi's Bedmi Poori and Aloo-Chole sabzi with ghee and chilli pickle are also served at this shop. She meets in the morning. Its price is also only 30 rupees plate. Since this area belongs to West Delhi, to maintain the taste there, potato and bread paneer pakodas, kachoris and samosas are also available at this shop. Their price ranges from Rs 10 to Rs 30. When asked, the price of your goods is not very high, the shopkeeper says that we do not know anything other than this work. That's why we sell spicy goods at a marginal rate, so that people also like it and our life-cart also keeps running. Our aim is to bring the taste of Old Delhi to the people of West Delhi and we are succeeding in that.
Maliwad's pakode shop has a new location
This shop in Rajouri Garden is another shop of Rajesh Rathore, who is running a dumpling shop in Maliwada, Chandni Chowk. This shop in Old Delhi was started 90 years ago by the people of Rajesh's family. Rajesh sits at the Rajouri Garden shop from morning till noon, so that the pakodas can be molded according to the taste of Old Delhi. His son Lakshya Rathore helps in this work. He explains that the taste of pakodas emerges from our special spices, which we bring whole from Khari Baoli and mix and grind ourselves. This pakoras shop opens at 8 in the morning and you will not have to be disappointed by the time you arrive at 8 pm. There are no holidays at this shop.
Nearest Metro Station: Rajouri Garden
Read Hindi News online and watch Live TV News18 on Hindi website. Know news related to country and abroad and your state, Bollywood, sports world, business.