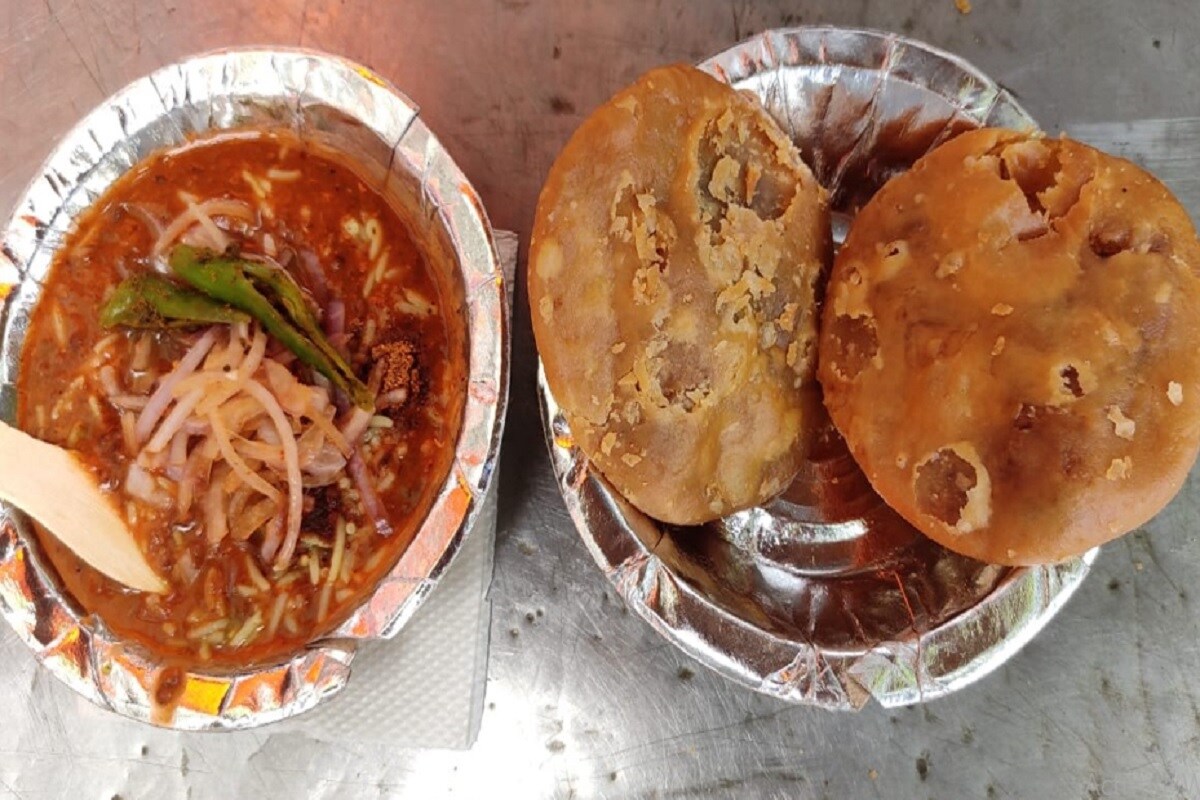 (Dr. Rameshwar Dayal)
Today we bring you the taste of a wonderful dish at low prices. Although the price of this dish is low, but it does not break in taste. The reason for this is that the pulse of this dish is boiled in milk. Then after dipping the kachoris in lentils, yellow rice, then souring of tamarind, followed by special masala, when chopped onion is added and lemon is sprinkled, the taste is such that a feeling of satisfaction is created while eating it. The name of this delicious dish is 'Sindhi Moth Kachori'. It is so pleasing to the tongue that a plate does not work.
Moth dal is put in the tamari and boiled in milk for an hour.
The origin of this Sindhi Moth Kachori is near Income Tax Colony located in North Pitampura. When you walk ahead of this colony, it will be seen on the right side near the Q block. First let's hear the story of this dish. First of all, moth dal is soaked in water at night. Then in the morning this lentil is put in a tamari (pot like a pot) and boiled in enough milk. When it boils, add salt to it and leave it. Since it is Moth Kachori, then Kachori is also made for it. Making a bag of urad dal and spices, filling it in a flour dough and frying the shortbread in the vegetable. Overall, the base of this Sindhi Moth Kachori is ready. Along with turmeric, rice is also boiled.
Sindhi Moth Kachori is presented in a wonderful way
Then all this stuff reaches the place, then its sale starts. A plate of this dish, which contains two kachoris, costs 30 rupees. If you want a single shortbread, it is available for 20 rupees. The way of serving it is very interesting. People mostly eat kachoris after crushing them. The reason for this is that the taste emerges from it. After crushing the shortbread in both, thick moth dal with salt is prepared. A layer of yellow rice is spread over it. Then tamarind sourness and hand-made spices are added to the dish. After this it is mixed with a spoon. Finally, once again chopped onion and lemon are sprinkled on top. If you want, then Achari chili is also given along with it. Sindhi Moth Kachori is ready.
Also read: You must not have eaten 'Japanese Samosa', reach Delhi's Manohar Dhaba to take a test
Learned from grandmother how to make Sindhi Moth Kachori
Bablu runs this thread. He started feeding this dish from the year 1996. He told that in childhood, grandmother used to make and feed this dish. The family enjoyed a lot. When he was able to earn, he thought that this dish should be fed to the people. Initially the price of this dish was Rs.10. People liked the taste and their business went on. This dish started making people's tongues spicy. There is also facility of good packing of this dish. People come and eat Sindhi Moth Kachoris and take them packed for family and friends.