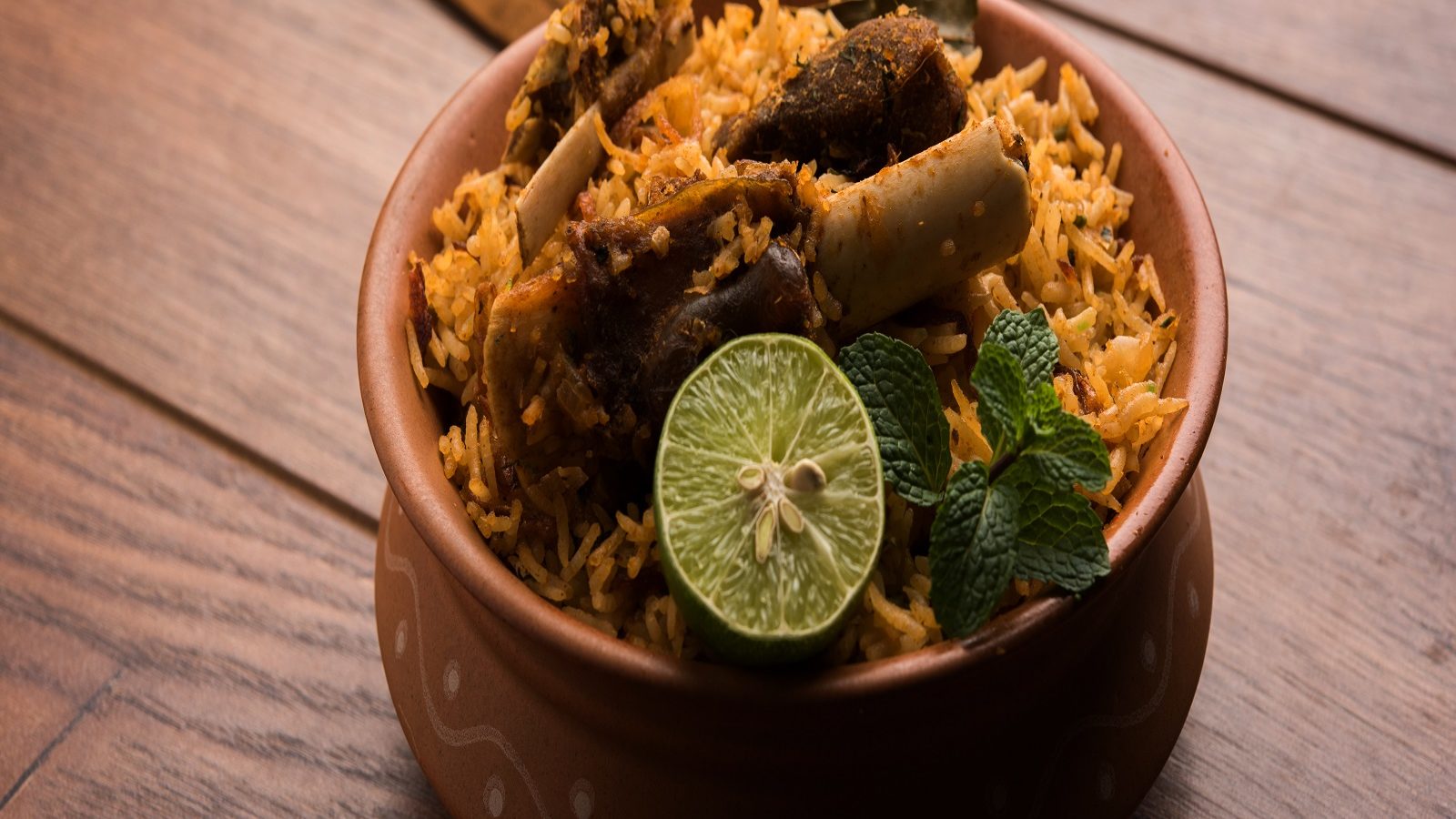 Mutton Biryani Recipe: If you are fond of non-veg and have organized a bachelor party at home this wedding season, then you can try the recipe of Mutton Biryani at home to please your friends. Let us tell you that whoever tastes this Mutton Biryani once, he will go crazy for it. To make Mutton Biryani, rice is cooked in saffron milk and whole spices like bay leaves, cardamom, cloves, star anise, cinnamon are added to it. These spices give a different taste to Mutton Biryani. Mutton is marinated and added to Basmati rice.
Delicious mutton biryani can be served with raita or plain curd. Let us tell you about the recipe of Mutton Biryani.
Ingredients for making Mutton Biryani
For rice-
1 star anise
500 grams basmati rice
2 bay leaves
2 black cardamoms
2 tsp black cumin
6 black pepper
6 green cardamoms
6 cloves
2 cinnamon sticks
1 tsp saunf
nutmeg
1 mace
3 tsp salt
To marinate the mutton-
1 kg mutton
1 tbsp garam masala
1 garlic paste
3 papaya paste
4 tablespoons hung curd
juice of a lemon
1 tbsp red chilli powder
1 tsp salt
4 onions (finely chopped)
2 tomatoes (sliced)
cup warm milk
Ghee
Saffron
Oil
Rose water
kewra
4 green chilies
Also read- Bengali Fish Dishes: Know about the famous 6 'fish diseases' of Bengal, you will fall in love with fishes as soon as you eat them
Method of making Mutton Biryani
Mix curd, ginger-garlic paste, papaya paste, red chili powder, salt, lemon juice and garam masala in the mutton. After that leave it for three hours.
On the other side, finely chop two onions. Separate the onion pieces. After this, put oil in a pan or kadhai and heat it. Add onions and fry them.
Oil should be well applied on all the onions. Use more oil if needed. Fry the onions lightly and keep stirring continuously.
After the onions are roasted, take them out. Keep on tissue paper. This crispy roasted onion is called barista.
Now heat ghee in a heavy pan. Add remaining onions and green chilies to it. Fry till it turns light brown in colour. Keep in mind that keep stirring the mixture continuously.
Then add ginger-garlic paste to it. Also add marinated mutton and cook on high flame for 10 minutes.
After this, add coriander powder, cumin powder and red chili powder and mix it well. Add three cups of water and boil it once.
Reduce the flame and cook till the mutton is completely cooked. Then add tomato, salt, garam masala powder and coriander leaves to it.
Cook on medium flame for another 15 minutes. Keep stirring the mixture in between. After some time the oil will start coming out from the spices and the water will dry up.
For biryani rice, soak basmati rice in water for 20 minutes and leave it. Then clean it thoroughly and remove the water from it.
Tie a bundle by placing cardamom, cinnamon, clove, mace, nutmeg, black pepper, Shahjeera and star anise in a small cloth.
Boil about 750 ml of water, add rice, bay leaf, salt and the prepared bundle. Cover the pan.
Cook the rice 1/3. After this, take out the remaining water from it and take out the bundle.
Take lukewarm milk in a cup. Add saffron to it. Cover and keep it for 20 minutes. Also mix rose water and kewra in it and keep it aside.
Take a heavy pan to make biryani. Put two tablespoons of ghee in it and heat it. Melt the ghee by reducing the flame. Apply ghee well on the bottom and sides of the pan.
-Turn off the flame. Then add the rice layer to it. Mutton pieces on top. Then add some saffron water, fried onions and ghee. Repeat this action again.
Keep repeating this process till the rice, mutton and ingredients are completely finished.
After this, add the juice of half a lemon including mint and coriander, onion and green chili on top.
Place a dough or foil paper on the edge of the pan. After this cover the pan with a lid. Cook the biryani in dum style for about 40 minutes.
Switch off the flame after -40 minutes. Let the biryani remain like this for about ten minutes.
Put mutton biryani in a vessel and serve it with salad and raita.
Read Hindi News see more online Live TV News18 Hindi website. Know related to country and abroad and your state, Bollywood, sports world, business News in Hindi. Us Facebook, Twitter, Instagram And Telegram Follow on.
Tags: Famous Recipes, Food, Food Recipe, Lifestyle