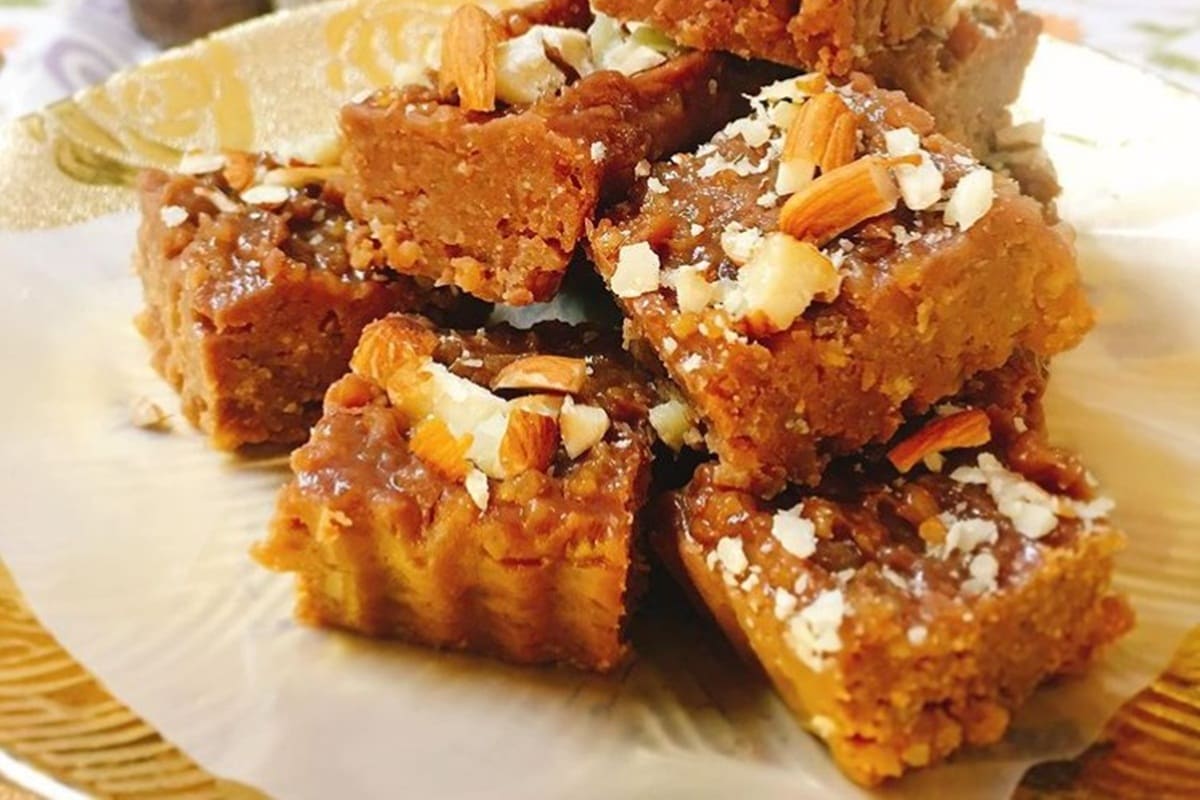 Punjabi Doda Barfi Recipe: You must have tasted the famous Doda Barfi of Punjab many times. The taste of this sweet is very delicious. Usually the demand for Doda Barfi increases as soon as the festival season starts. The specialty of this barfi is that Mawa (Khoya) is not used in it. It does not take much time to prepare it at home. If you want to do something different this time for the guests coming home, then you can make Doda Barfi at home. With this method you can make it at home.
Ingredients for Punjabi Doda Barfi
Milk – 4 cups
Fresh cream – one and a half cup
Oatmeal – 3 tbsp
Sugar – 2 cups
Desi Ghee – 1 tbsp
Almonds (finely chopped) – 1 cup
Cashew nuts (finely ground) – 1 cup
Pistachios (long cut) – 2 tbsp
Cocoa Powder – 2 tbsp
How to make Punjabi Doda Barfi
Put ghee in a pan, when the ghee becomes hot, add porridge and cook it on medium flame till it becomes light brown. After that take it out and keep it aside. Now put milk in another pan and boil it on medium flame. When the milk boils, add cream to it. Boil it till the milk becomes thick. This whole process will take about 45 minutes. During this, if milk seems to be in the pot, then keep releasing it with a spoon.
Also read: Nuts Burfi Recipe: If you like sweet food, you can make Nuts Burfi at home, this is the method
Now add oatmeal and sugar to the prepared milk and mix it well. Cook it for another 20 minutes. During this, keep stirring it with a spoon so that the milk does not stick to the side of the pot. Now add cashew, almond and cocoa powder to it. Cook it till it becomes like a big dough or the milk starts leaving ghee. This process will take about 15 minutes.
Also read: Burfi Paratha Recipe: Have not tried Barfi Paratha yet, prepare it like this at home
Now take a tray or plate and apply ghee on it. Spread the prepared mixture well in it. Then cut it into pieces the size of barfi. After this, put pistachios on it and press lightly with a spoon. In this way your Punjabi Doda Barfi is ready at home itself. Now after it cools down, serve it to the family members or guests.
Read Hindi News online and watch Live TV News18 on Hindi website. Know news related to country and abroad and your state, Bollywood, sports world, business.