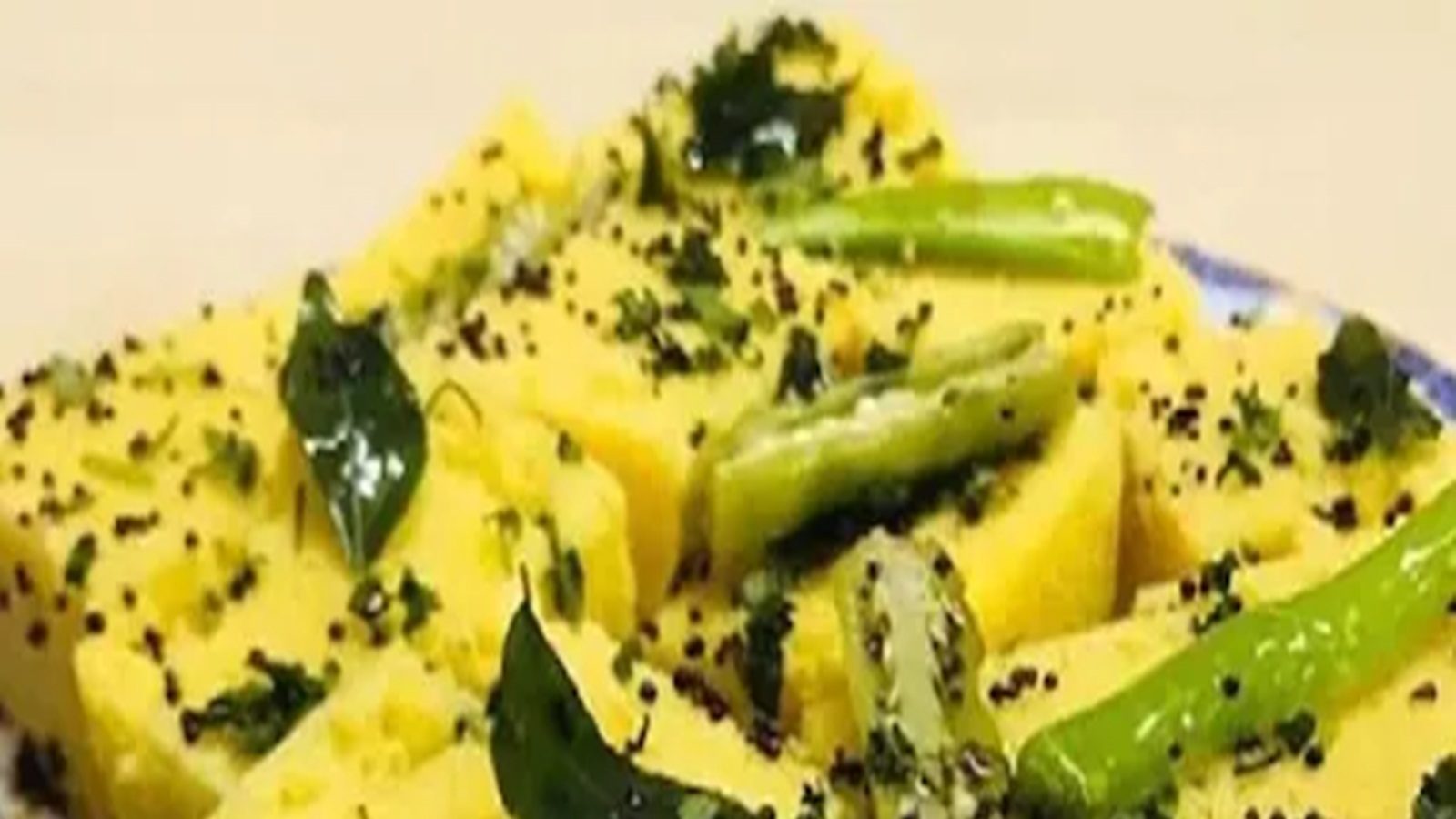 Khaman Dhokla Recipe: On hearing the name of Khaman Dhokla, one starts enjoying the taste of Gujarati in the mouth. This popular dish of Gujarat has now become quite famous across the country. Food lovers taste it once, then do not miss the opportunity to eat it again. We are going to tell you an easy recipe of Gujarati Khaman Dhokla which can be prepared at home in very less time. With the help of this recipe, you will be able to prepare soft and spongy Gujarati Khaman Dhokla. This recipe can be prepared quickly during breakfast or at any time of the day if you are feeling a little hungry. Children also like it a lot.
Ingredients for Khaman Dhokla
to make a solution
Besan – 1 cup
Semolina – 1 tbsp
Lemon juice – one and a half tsp
Ino powder – 1 tsp
Green chilies (chopped) – 2
Ginger (grated) – 1 tsp
Water – 3/4 cup
Curd – 1/4 cup
Oil – 1 tsp
Salt – as per taste
to temper
Oil – 2 tbsp
Curry leaves – 10-15
Rai – 1/2 tsp
Cumin – 1/2 tsp
Sesame – 1 tsp
Sugar – 1 tbsp
Green chilies (cut lengthwise) – 4
Grated fresh coconut – 2 tbsp
Asafoetida – 1 pinch
Water – 1/3 cup
Also read- Fruit Custard Recipe: Fruit Custard is healthy as well as tasty, make this at home
How to make Khaman Dhokla
To prepare Khaman Dhokla, first prepare all the ingredients. To make dhokla, add 2 to 3 cups of water to the vessel. Keep it to heat on medium heat. Before placing the plate, heat the utensil for making Dhokla for at least 5 minutes. Now take 2 small plates (the plates should be such that they can be easily kept in the vessel). Grease it with 1 tsp oil.
Now in a large bowl mix gram flour, semolina, lemon juice, green chilli-ginger paste, curd and 3/4 water. Add salt to it as per taste. Now mix it well. Mix in such a way that no lumps remain in the solution. Now add eno powder to this solution and beat it for a minute, it will almost double the solution.
After this, immediately pour the solution in the greased plate. While pouring the solution, keep in mind that the plate is filled with solution only up to 1/2 inch height.
Also read- If you are fond of eating Gujarati, you will get a lot of variety on 'New Rachna' in East Petal Nagar.
Now place a stand in the vessel for making Dhokla, then place a plate on it and let it cook on medium flame for 10 to 12 minutes with the help of steam.
After this, check the dhokla with a knife. If after inserting the knife it does not stick to the batter then it means that the dhokla is cooked, else let it cook for some more time.
tempering method
Now take a wok and heat 2 tbsp oil in it. After the oil is hot, add mustard seeds and asafoetida. When it starts crackling, add cumin seeds, sesame seeds, curry leaves and green chilies and fry for few seconds. Now add 1/3 cup water and sugar. Let it boil. After it comes to a boil, let it cook for a minute. Now your tempering is ready, pour it on the dhokla and stir the dhokla gently so that the tempering is well coated.
Now garnish it with chopped coriander and grated coconut and serve it with green coriander chutney. Gujarati Khaman Dhokla can be enjoyed at home with this easy method.
Read Hindi News online and watch Live TV News18 on Hindi website. Know news related to country and abroad and your state, Bollywood, sports world, business.