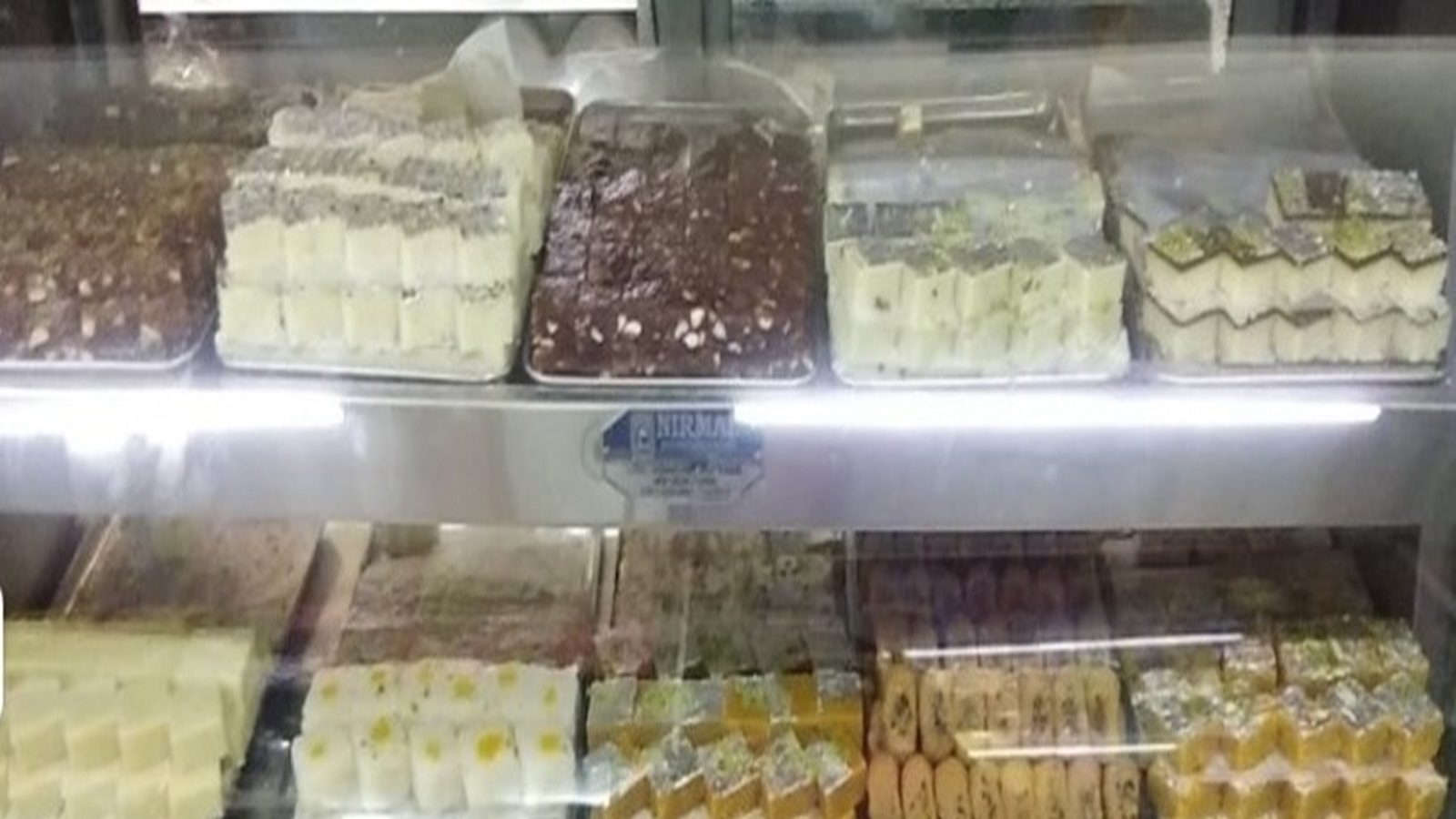 Namkeen and Sweets Shop In Delhi: (Dr. Rameshwar Dayal) For the last few years, it has been happening in Delhi regarding food that if there is some hunger then that hunger should be quenched by bringing samosas and saltpare from the market. Now the changing times have reduced the confectionery shops. Apart from this, the practice of those confectioners in residential colonies, where hot samosas or fresh namakpare are constantly being available. Now a new culture has been formed. When there is a slight hunger, then seduce the stomach with namkeen and biscuits. If a guest comes in the house, then by serving biscuits and namkeen stuffed in plastic containers, do guest-dharma. And the guests are happy too.
We would like to inform that nowadays the practice of keeping packets of biscuits and namkeen in every household has increased. When this happens, their shops will also open, so today we take you to one such shop, where ifrat is full of salty biscuits. It is a salty shop by name, but sweets are also available in plenty.
More than 100 types of salty here
When you reach Kailash Colony, the posh area of ​​South Delhi, then it has a name shop in the main market. This shop has no relation with Bikaner Namkeen people. But it is one of the oldest namkeen shops in the area. In the initial period, two-four namkeen and biscuits of one variety were available at this shop. But now it will not be an exaggeration to call this shop a store for namkeen, biscuits and sweets. Talking about Namkeen first, there are more than 100 types of Namkeen present in this shop. Among them, Punjabi, Gujarati, Mumbai Namkeen are not only there, as well as diet snacks are also full of them. Not only this, apart from fresh Dhokla, Khandvi, Cutlet, Sandwich, Burger, many types of Mathis are also present at this shop. Eat whatever you want or pack it and take it home. Price is not very high. If the plate of sandwich, burger, dhokla is between 20 to 30 rupees, then small packets of namkeen will be available within 40 to 55 rupees. Big packets of namkeen are also present at the shop.
More than 100 varieties of namkeen are present at 'Bikaner Namkeen Bhandar'.
From figs, dates burfi to eggless cakes, pastries are available
About 40 types of sweets are also available at this shop. Some sweets are different and delicious. These include sugar free kalakand figs and date barfi. It is rarely available in stores. Their price ranges from Rs 640 to Rs 840. Apart from this, there are other sweets of the same range. Since the shop is in a posh area, apart from cleanliness, the taste is also kept better.
Also read- If you want to enjoy rusk, fan, country biscuits for breakfast, then definitely visit Al-Haj Bakery in Ballimaran
This shop is in the market of the colony, so there is also a lot of bakery goods here. Eggless bakery is available at the shop, in which pastries of many colors and tastes, beautiful and excellent to eat cakes, different types of dry cakes and cupcakes are also present. Their prices are normal. You can also get bakery goods made by ordering.
Also read- If you want to eat chole-puri filled with the taste of Lahore, then definitely come to 'Bille Di Hatti' in Kamala Nagar
44 years old shop
This shop is about 44 years old. In the year 1977, this shop was started by Kamalchand Dugad. Initially, the variety of namkeen and biscuits was less, but as the settlement increased in the area, the variety also increased. He says that now the trend of keeping and eating salty-biscuit in homes has increased, so it is necessary to keep variety. His son Rakesh Dugad and son-in-law Manish Jain also cooperate in this shop. The shop opens at 9 am and shopping can be done till 9 pm. There is no holiday.
Nearest Metro Station: Kailash Colony
Read Hindi News Online Watch More Live TV News18 on Hindi website. Know related to country and abroad and your state, Bollywood, sports world, business News in Hindi.