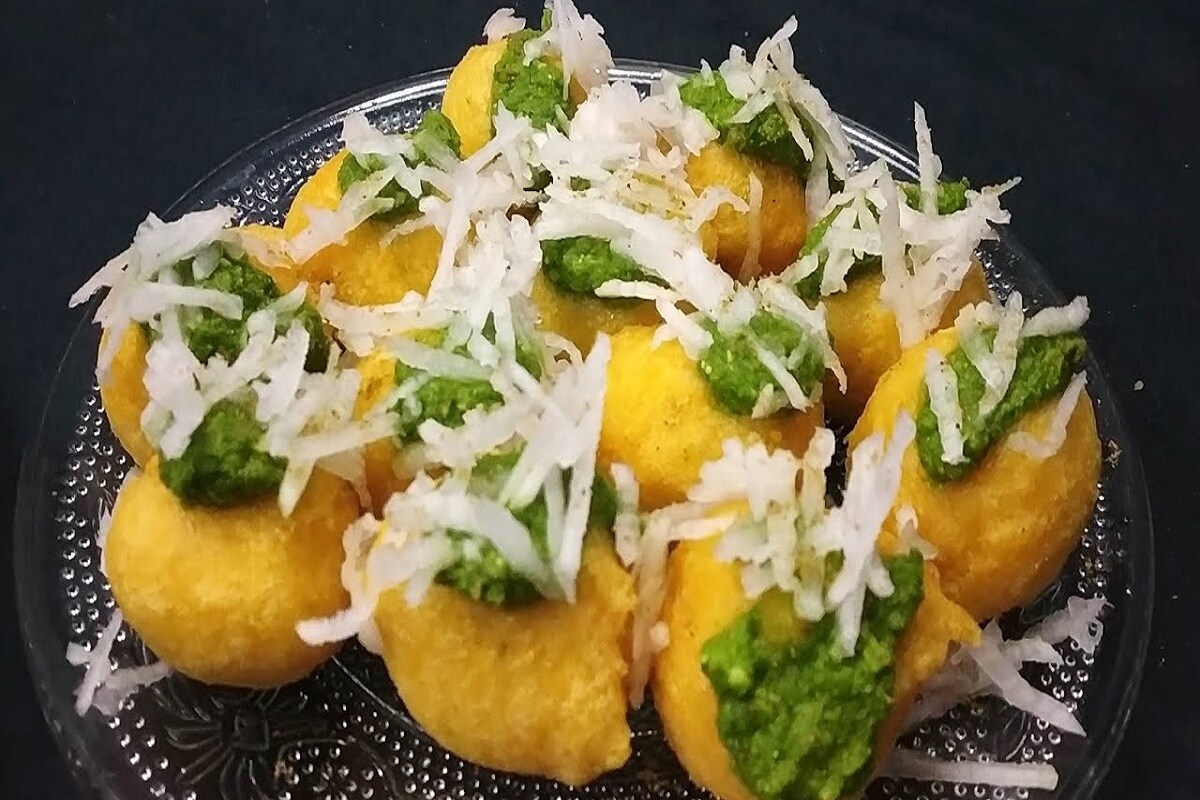 (Dr. Rameshwar Dayal)
Dogra Snacks Shop Famous Ram Ladoo Delhi: We all are familiar with laddus. Usually these sweet laddus are offered to God or 'dedicated' for social and marriage ceremonies. You already know their names, such as Bundi Laddu, Besan Ke Laddu and Motichoor Laddu etc. But today we are introducing you to a different type of laddus, which are salty and are served with sour-sweet chutney and radish laddus. Just seeing them makes my mouth water. So you can imagine that how wonderful and delicious their taste will be.
gram dal laddus, Sour-sweet chutney and radish flakes from above
Old Delhi's HC Sen Marg which connects Chandni Chowk and Old Delhi Railway Station, is where New Bapu Market is located. In which the old shop 'Dogra Snacks Shop' has been opened. By the way, apart from paneer pakodas, thick chili and cabbage pakodas are also available at this shop, but the real taste is of salty laddoos made from lentil mixture. When these laddoos are cooked in oil, then after putting them in two, wrapped radish flakes and sour sweet chutney on top, together with special spices made by hand, are offered, then the heart starts shuddering. Both the laddus seem full.
Read also: The menu of this vegetarian thali worth Rs 180 varies according to the season
Laddoos are fried in soybean oil by adding special spices.
Now listen to the story of these laddus too. The shopkeepers make a mixture of gram dal at night so that by morning it gets a little leavening. Special spices are also added to this mixture so that their taste emerges. Soybean oil is used for frying. In the first pan, these laddus are fried once in a low flame. On the demand of the customer, it is again fried till it becomes crisp. So tell me, the taste will not emerge. In just 30 rupees, when the laddus come in both while exhaling the fragrance, it is normal to lick the tongue.
Also read: This is the first shop of Banta Lemon in Delhi, everyone doing it before independence
cheese, Green chili and cabbage pakodas can also be enjoyed.
About 52 years ago, Pandit Tarachand Sharma started selling this shop near the adjacent Hardayal Municipal Library by putting thia. When the laddus left, the shop was taken to New Bapu Market. Now his two sons Naresh Dogra and Gurdev Dogra are handling the shop. In the shop, one paneer pakoda of laddus for Rs 30 and four thick stuffed green chillies and cabbage pakodas for Rs 30 can also be tasted. Onion and garlic are not used in the dishes. If you come to this shop in winter, you will also get to drink kanji with cool black carrots. The shop opens at 10 am and hot laddoos and other pakodas can be eaten till 9 pm. Every full moon is a shop holiday.
Nearest Metro Station: Chandni Chowk