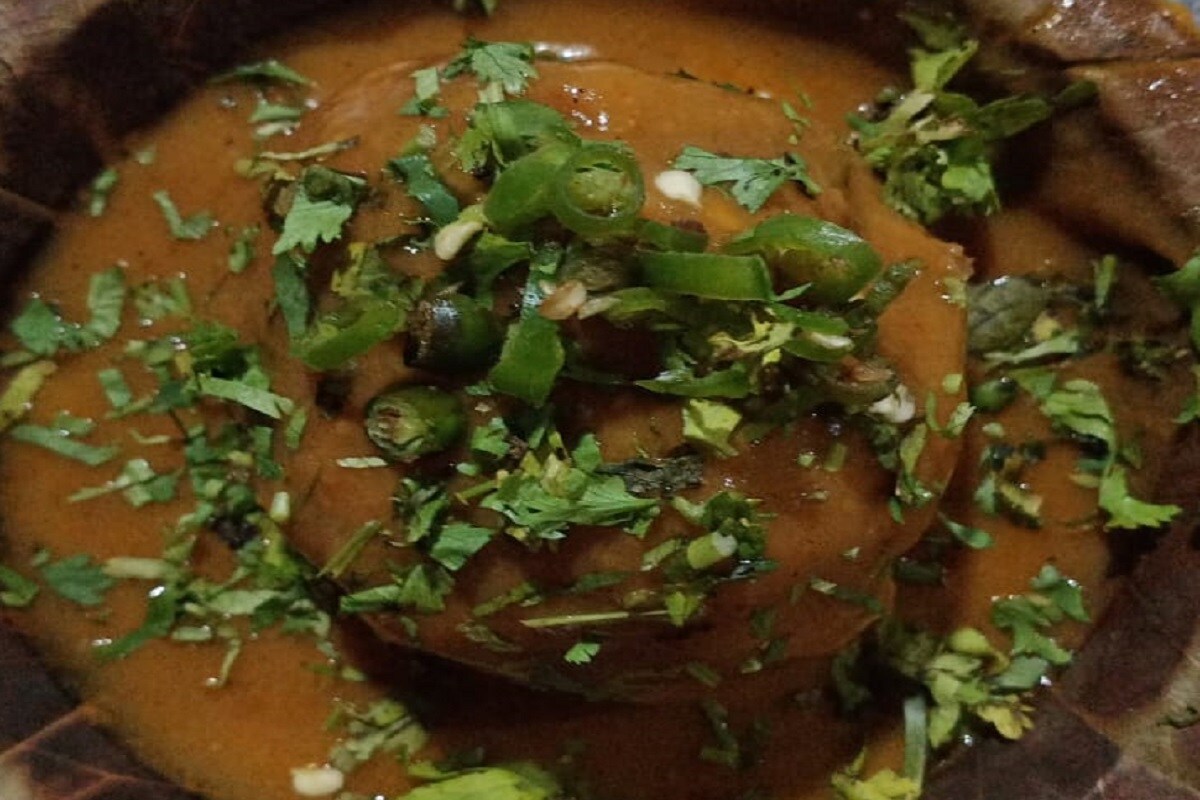 (Dr. Rameshwar Dayal)
Yummy Dum Aloo, Kachori At Sanjay Kachori Wala In Old Delhi: You must have eaten Dum Aloo made by mother's hands at home. If you have gone to the restaurant too, you must have tried the Dum Aloo dish a few times. But today we are going to give you a taste of such Dum Aloo, which will give you 'Dum Hi Nikal'. But the taste is so wonderful that while eating, the face starts puffing or tears come out of the eyes, but without eating, the mind will not agree. The method of making this dum aloo is also unique, which makes it delicious. Shortbread is also available at the shop, but people gather only for Dum Aloo. The name of the shop in the area is so much that everything is settled in three hours.
Whole potatoes are first roasted
When you enter Old Delhi's Jewelery Market Dariba Kalan, it seems to be Sanjay Kachori Wale's Thiya near the entrance of Kinari Bazar. Remember that it takes place after dusk, when the shops of Dariba Bazaar start closing. First of all let's talk about Dum Aloo, whose dish is made in a 'singular' way. Whole potatoes are first roasted in bhad (desi tandoor). Then the potatoes are peeled and deep fried in whole vegetables. A special curry is made for Dum Aloo, which tastes amazing. In this, black pepper, mace, small and big cardamom, cinnamon and other standing spices are mixed and mixed.
It is decorated at 7 o'clock and at 10 o'clock all the goods are finished.
That's why it seems like 'Dum', this Dum Aloo
Check out how In Dum Aloo is presented. A whole potato and curry are added to both. Spicy chopped green chilies, green coriander and lemon are sprinkled on top. You must have understood why Dum Aloo seems to be expelling 'Dum' while eating. People come and eat potatoes hot. If you look at them while eating, it will seem that they are making a strange mouth, tears are flowing from their eyes but their food does not stop. Many elders of the area are also crazy about potatoes, but the shopkeeper keeps his hands on green chillies, lemon etc. while feeding them. Ek Dum Aloo-Curry Dona is available for Rs.30.
Spicy spices are also filled in shortbread pits
The taste of shortbread on this dish is also wonderful. All the items including shortbread are prepared at home. Dal pithi and spicy spices are mixed in Kachori. The special thing is that chickpeas are served with kachoris, but if Dum Aloo curry is also added on top, the taste of chickpeas emerges. Together with chopped hot green chilies, green coriander and lemon add more tempering to its taste. The cost of two kachoris is Rs 30. Talking to the people who eat, they tell that their dish is very spicy, but it does not weigh heavily on the stomach.
Read also: The menu of this vegetarian plate of Rs 180 varies according to the season, claims full satisfaction
When the market is closed, then it spreads happiness.
About 70 years ago, Naubat Ram Sharma and his brother Munshiram Sharma started applying this lamp. Then his son Lalita Prasad took over. Today both his sons Sanjay Sharma and Nitin Sharma are handling the reins. This family is a resident of Old Delhi only. Other relatives of the family also run similar shops in other areas. When the Dariba market is closed, then at 7 o'clock in the night they are decorated and at 10 o'clock all the goods are finished. Since the market is closed on Sundays, the work starts at 1 pm.
Nearest Metro Station: Red Fort