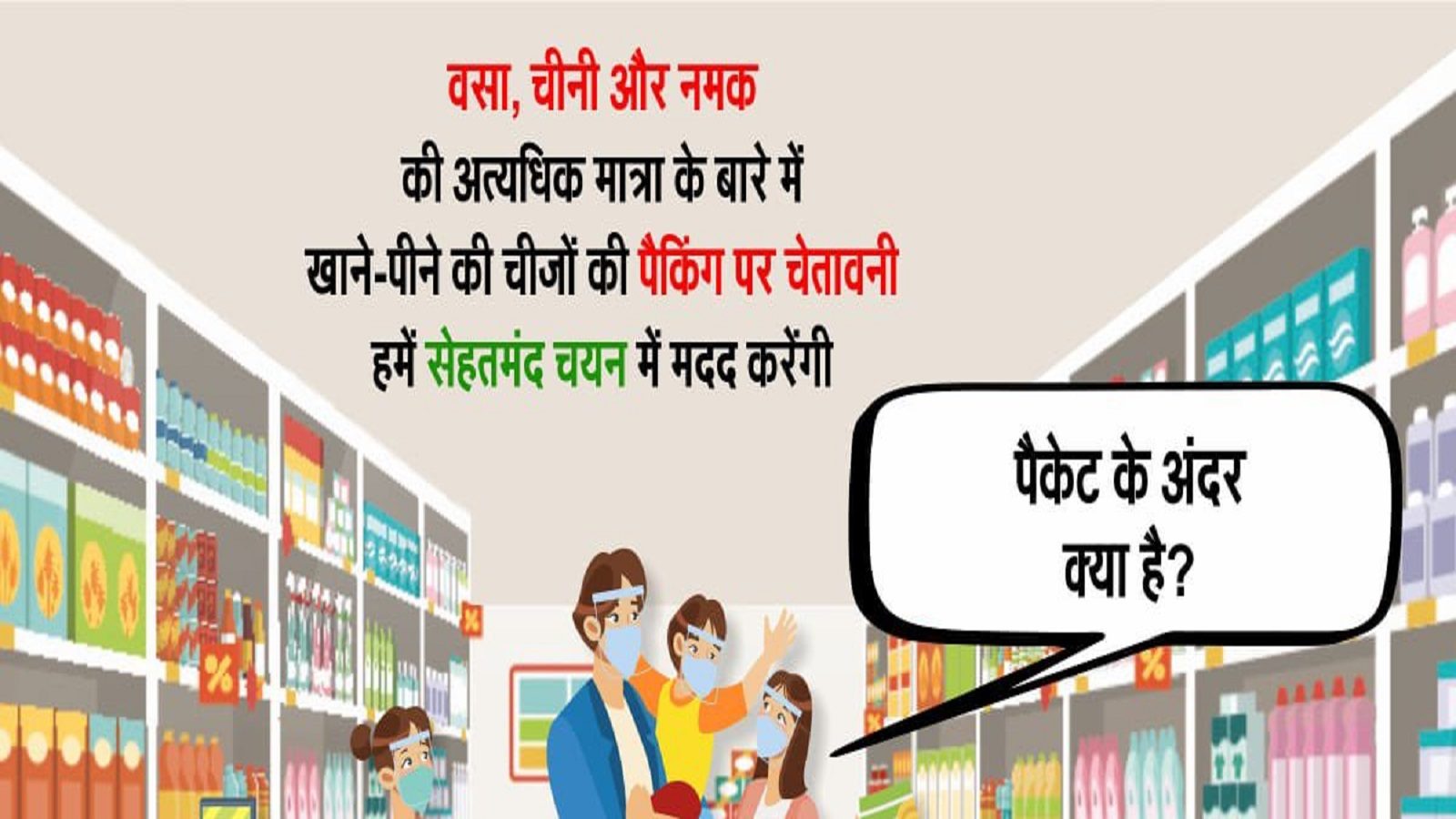 New Delhi. In view of World Food Day, an online survey was conducted to get public opinion about the mandatory warning of Front of Pack Label (FOPL) system on packaged food products.
It has been revealed in the survey that 80 percent parents want that FOPL arrangement should be done on packaged food items. With this, parents will be able to get a clear information about the amount of fat, salt and sugar in the food packets. It is felt a great need to make it mandatory for food processing companies to display it prominently.
Meanwhile, increasing obesity in children and due to it, the risk of non-communicable diseases (NCD) in adulthood is increasing rapidly. Indian parents are very worried about this. Regarding this, he now wants that strict rules should be made by the government for the control of processed food items. In this regard, the latest online survey conducted by the Institute of Governance, Policy and Politics (IGPP) is further emphasizing this point.
Read also: World Food Day 2021: Climate change poses a double challenge for malnourished children
Nearly 80 percent of parents in this nationwide survey agreed that it should be mandatory for food processing companies to prominently display the levels of fat, salt and sugar on packaged food products. This online survey was conducted on the topic 'Awareness of people about the relationship between food habits/elements and non-communicable diseases/cardiovascular diseases'.
The major finding of the survey is also that there is a growing awareness among parents about the health hazards of excessive consumption of fat, salt and sugar. People are beginning to understand that such food products play an important role in increasing the rapidly increasing non-communicable diseases (NCDs) and heart diseases like diabetes and high blood sugar. The statistics also testify to this.
Annual heart attack kills 17 people
According to the 2017 Global Burden of Disease Report, 17 lakh people die every year due to heart disease in India. In addition, premature death in India has increased by 59 percent in 20 years. The number of premature deaths due to this reason was 2.32 crore in the year 1990, which increased to 37 million in the year 2010. Despite this, the level of consumption of sugar, salt and unsaturated fat (unsaturated fat) in our daily diet is increasing continuously. Our diet is being controlled by the billion dollar processed food industry and such unhealthy foods are being promoted.
Read also: Covid19: Food packets are becoming a big threat to health during the Corona period, health experts are cautioning
The number of packaged junk food products is increasing in the market.
Talking about the key findings of the survey, out of 80% parents, about 60% parents have also expressed concern that the number of packaged junk food products in the market is being aggressively and uncontrollably marketed. .
At the same time, 77% believed that displaying information related to harmful substances such as salt, sugar and fat, if made mandatory by the government and displaying them on food products in a simple and easy way, will motivate people to adopt healthier alternatives.
With such food, India will soon become the capital of diabetes and obesity
Dr. Madhukar Mittal, Additional Professor, Department of Endocrinology, AIIMS, Jodhpur, said on the basis of the survey results that excessive consumption of fat, sugar and salt is harmful to health. Most packaged foods contain extra calories, also called zero calories because they lack nutrients, vitamins and natural fiber. They lead to weight gain and high blood sugar. India is already facing the devastating effects of unhealthy diet. If this kind of diet continues, then India will soon become the capital of diabetes and obesity.
The problem of obesity in children is increasing rapidly in India
Expressing similar concern, Dr. Vandana Prasad, Community Pediatrician and Member of Nutrition Advocacy in Public Interest (NAPI) said that the problem of obesity among children is increasing rapidly in India, due to which they become victims of life-threatening diseases in adulthood. are made and this report which came in such a way is welcome. Although this survey has been conducted mainly in the urban middle class, but junk food has made an inroads to the remote villages.
Manish Tewari, director, IGPP, says that the survey results clearly show that easy availability of HFSS (high fat, salt and sugar) packaged food products is increasing parents' concern.
Due to these, non-communicable diseases (NCDs) are increasing, which are also called silent killers. Easily understandable, readable and acceptable labels on packaged food products will facilitate people to buy healthy products. The detailed report of the survey can be accessed by clicking on https://drive.google.com/file/d/16HbrNfG0uxWJRxhUTGV7Bz0bJhpJohwE/view?usp=sharing link given below.
Read Hindi News Online Watch More Live TV News18 on Hindi website. Know related to country and abroad and your state, Bollywood, sports world, business News in Hindi.